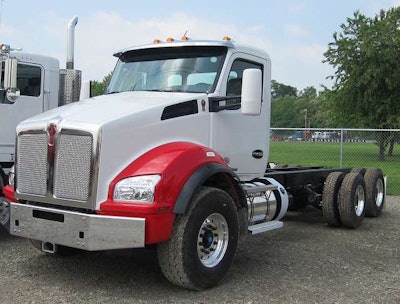 Kenworth says it will exhibit two, new Kenworth T880 vocational models and a Kenworth T370 dump truck during NTEA's New Model Truck Product Conference Sept. 10-12 at the Adoba Hotel in Dearborn, Mich.
The National Truck Equipment Association (NTEA) is sponsoring the show, which gives invited body builders an opportunity to preview new model chassis.
Leading the way at the show is a new Kenworth T880 equipped with a standard hood at 122.5-inch BBC and a 485-hp PACCAR MX-13 engine with 1,650 lb-ft of torque for use in a roll-off waste container application. Designed for a mixer application, the second Kenworth T880 is a 116.5-inch BBC short hood optimized for a PACCAR MX-13 engine rated at 380-hp and 1,450 lb-ft of torque.
The PACCAR MX-13 can be rated up to 500-hp and 1,850 lb-ft of torque. The Kenworth T370 dump is powered by a 330-hp PACCAR PX-9 engine with 1,000 lb-ft of torque.