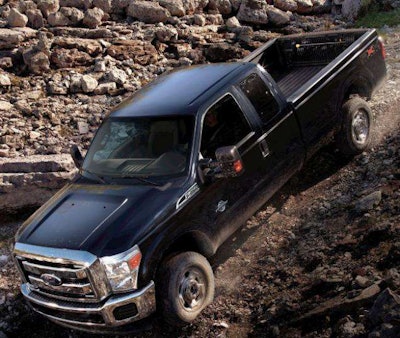 The Ford F-250 finds itself atop a a list you likely won't see in its commercials.
The F-250 crew 4WD has unseated the Cadillac Escalade as the favorite target of thieves, according to an annual survey by the Highway Loss Data Institute (HLDI).
The F-250 replaced the Cadillac Escalade in the no. 1 spot of the latest round of the HLDI's ranking of vehicles with the highest rates of insurance claims for theft.
The Escalade held the top spot from 2003 too 2009 before falling to No. 6 in the latest round, slipping behind the Chevrolet Silverado 1500 crew cab; Chevrolet Avalanche 1500; GMC Sierra 1500 crew cab; and the Ford F-350 pickup.
This year's study covered claims filed from 2010-2012, and was based on frequency of claims per 1,000 vehicles. The F-250 accounts for 7 theft claims per 1,000 – nearly six times the average for all vehicles. Many pickup claims result from the theft of equipment from the truck bed, and that may be the case with some of the F-250 claims. HLDI's data don't distinguish theft of vehicle contents or components from theft of a whole vehicle.
Ford F Series trucks occupy two of the Top 5 spots, but General Motors' trucks and SUVs dominate the list, taking 8 of the 10 spots.
Both GM and Ford say they have taken steps to reduce theft claims through antitheft devices, a big reason vehicles tend to fall down the rankings.
"On the other hand, sales of the Escalade have fallen in recent years, so there may be less of a market for stolen Escalades or Escalade parts," HLDI Vice President Matt Moore says.