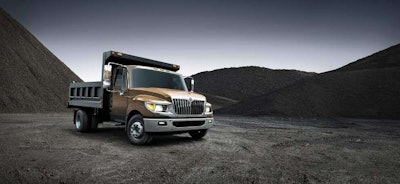 Navistar has started shipping its first International TerraStar 4×4 units – one of the company's newest additions to its Class 4 – Class 8 product portfolio.
"This marks another milestone for Navistar as we continue our drive to deliver," Jack Allen, Navistar chief operating officer, says. "The addition of the TerraStar 4×4 to our portfolio not only allows us to offer more capabilities to our customers, but it positions International Truck to participate in a significant piece of the market where we haven't previously had a presence."
Launched in 2010 in a 4×2 configuration, International says the TerraStar gives work truck buyers a new product with a wide range of commercial duty features not offered in other trucks. Now, with a 4×4 option for the other 50 percent of the market, the company says the TerraStar is a class unto itself while sharing the same rugged, durable and hardworking DNA as the medium-duty International DuraStar. The vehicle delivers additional commercial duty capability for a wide range of customer needs, including construction, utility, emergency, oilfield and other vocational applications.
International TerraStar 4×4 Features Include:
• Allison Optimized 1000 Series transmission
• Fabco TC-28 gear-driven transfer case—the only gear-driven transfer case in its class
• 6.4-liter MaxxForce 7 V-8 engine with up to 300 horsepower
• Longer 138- and 150-inch CA offerings w/ standard cab to accommodate 18- and 20-foot bodies
• Aluminum step package and stainless steel fuel tank straps
• Commercial style tilt-away hood provides easy access to engine compartment for routine service and scheduled maintenance.
• Best-in-class 80,000 PSI frame rails and huck-bolted frame ensures maximum strength
• Commercial grade cab designed to be more durable and resist cracking under heavy loads