Greater payload and towing capacities, fleet telematics, distinct grille badging and three new models top the list of changes for Ram's 2019 ProMaster.
Ram Commercial Manager David Sowers provided a tour recently of the brand's latest workhorse during a media event at FCA's proving grounds in Chelsea, Mich.
"I'm pretty proud of the enhancements that we've made to ProMaster for this year," Sowers said.
A brief test-drive on one of the company's test tracks demonstrated the van's quick acceleration, nimble handling, comfortable ride and responsive braking. Driving the high-roof ProMaster 2500 with a 136-inch wheelbase was reminiscent of driving an SUV.
During the short drive, which included plenty of sharp turns, Sowers explained how the van has gotten substantial gains in towing and payload.
"The payload on a 136-inch low roof goes up to 4,680 pounds which is the highest payload of any Class 2 van that's out there. As a matter of fact, that's higher payload of any Ford Transit including their 350 dually," Sowers said.
Also new for 2019, ProMaster has gone from gray to black on its bumpers and side panels and has gotten a large Ram badge on the grille. Sowers explained that OEM badging is often removed prior to vinyl wrapping. Also, keep in mind that the United State Postal Service will be getting roughly 19,000 ProMasters. The USPS, like other government agencies, often removes OEM badging.
"We want to continue to get credit for all the vans that we have out on the road. We're running our plant full-out and selling out every year," Sowers explained. "We want customers to realize that once they see FedEx, UPS, USPS driving our vehicles that these are very smart fleet managers making decisions. So now it's going to say RAM out on the front. They're not going to take that off. That's part of the grille. It's going to stay there. That will be great brand attribution."
Check out the video below to hear Sowers go over more details on the 2019 ProMaster, including the advantages of its front-wheel drive. Additional details are also listed below the video.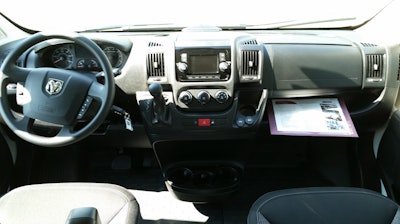 2019 Ram ProMaster
Feature Availability
S = Standard. O = Optional. P = Part of package.  F = Fleet only option.
Note: some features and/or applications may be late availability.
Cargo Van
Chassis Cab
Cutaway
ENGINES AND TRANSMISSIONS
3.6-liter Pentastar V-6 engine with six-speed automatic transmission
S
S
S
MECHANICAL FEATURES
Electronic Vehicle Tracking (by Mopar)
O
O
O
Ram Telematics – (late availability)
O
O
O
Speed limiter — dealer-activated, 60-mph, 65-mph, 70-mph and
77-mph
S
S
S
Upfitter Electronic Module (VSIM) – (late availability)
O
O
O
EXTERIOR FEATURES
Cab backwall with window
—
S
—
Doors, side
Left side with fixed glass (not available on 118-in. wheelbase; includes window grate on low roof models when no cargo partition is ordered)
O
—
—
Left side with no glass (not available on 118-in. wheelbase)
O
—
—
Right side with fixed glass (includes window grate on low roof models when no cargo partition is ordered)
O
—
—
Right side with no glass
S
—
—
INTERIOR FEATURES
Auxiliary upfitter switches — two
O
O
O
Cargo Partition
None (standard)
S
—
—
With sliding window
O
—
—
Without window
O
—
—
Cargo net (included with Interior Convenience Group)
P
—
—
Rear cargo LED lamp — (late availability)
O
—
—
Wall Panels
Upper side (includes lower side)
O
—
—
Lower side
O
—
—
Wood floor — rear (packaged with Ambulance Prep Package)
O/P
—
—
UCONNECT/MULTIMEDIA
Uconnect 3.0 with 5-in. display — AM/FM
S
S
S
Uconnect 3.0 NAV with 5-in. display — AM/FM/NAV
O
O
O
SAFETY & SECURITY
DOT-certified Roadside Safety Kit (by Mopar)
O
O
O
ParkSense rear park assist
O
—
—
ParkView rear backup camera (Kit supplied on Chassis Cab and Cutaway models; requires installation by upfitter)
S
S
S
PACKAGES AND EQUIPMENT GROUPS
Ambulance Prep Package A — includes 220-amp alternator, wood floor, upfit interface connector, right sliding door with fixed glass, rear hinged doors with fixed glass, Rear Heater Air Conditioning Prep Package, 12-volt rear auxiliary power outlet and cruise control (3500 Cargo Van 159-Inch wheelbase models only)
F
—
—
Interior Cargo Shelf Package (requires cargo partition or cargo partition with sliding window)
O
—
—
Interior Convenience Group — includes locking glove box, shelf above roof trim, under-seat storage tray, and cargo net
O
O
O
Premium Appearance Group — includes chrome grille and fog lamps
O
O
O
Trailer Tow Group — includes Class IV receiver hitch with four- and seven-pin wiring harness
O
—
—
RV Ready Prep Package — includes Trailer-tow Group, Interior Convenience Group, Premium Appearance Group, 220-amp alternator, swivel seats, rear heater – A/C Prep, auxiliary switches, 16.0-in. aluminum wheels
O
—
—
2019 Ram ProMaster Specifications
Specifications are based on the latest product information available at the time of publication.
All dimensions are in inches (millimeters) unless otherwise noted.
All dimensions measured at curb weight with standard tires and wheels.
GENERAL INFORMATION
Body Styles and Wheelbase
ProMaster 1500 Cargo Van 118-in. wheelbase low roof

ProMaster 1500 Cargo Van 136-in. wheelbase low roof

ProMaster 1500 Cargo Van 136-in. wheelbase high roof

ProMaster 2500 Cargo Van 136-in. wheelbase low roof

ProMaster 2500 Cargo Van 136-in. wheelbase high roof

ProMaster 2500 Cargo Van 159-in. wheelbase high roof

ProMaster 2500 Window Van 159-in. wheelbase high roof

ProMaster 3500 CargoWindow Van 136-in. wheelbase low roof

ProMaster 3500 Cargo Van 136-in. wheelbase high roof

ProMaster 3500 Cargo Van 159-in. wheelbase high roof

ProMaster 3500 Cargo Van 159-in. wheelbase high roof extended body

ProMaster 3500 Window Van 159-in. wheelbase high roof extended body

ProMaster 3500 Chassis Cab 136-in. wheelbase

ProMaster 3500 Chassis Cab 159-in. wheelbase

ProMaster 3500 Chassis Cab 159-in. wheelbase extended body

ProMaster 3500 Chassis Cab Cutaway 136-in. wheelbase

ProMaster 3500 Chassis Cab Cutaway 159-in. wheelbase

ProMaster 3500 Chassis Cab Cutaway 159-in. wheelbase extended frame

Assembly Plant
Saltillo Van Assembly, Coahuila, Mexico
BODY AND CHASSIS
Layout
Transverse front engine
Construction
Unibody and ladder frame
ENGINE: 3.6-LITER PENTASTAR V-6
Type and Description
60-degree gasoline V-type
Displacement
220 cu. in. (3,604 cu. cm)
Bore x Stroke
3.78 x 3.27 (96.0 x 83.0)
Valve System
Chain-driven DOHC, 24 valves and hydraulic end-pivot roller rockers
Fuel Injection
Sequential, multiport, electronic, returnless
Construction
Aluminum deep-skirt block, aluminum alloy heads
Compression Ratio
10.2:1