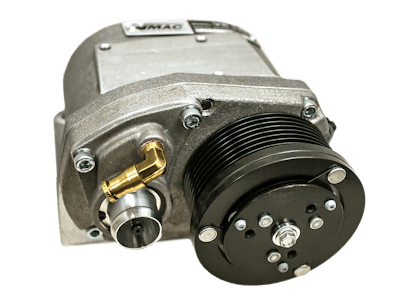 VMAC announced this week the launch of its latest Underhood-Lite rotary screw air compressor system designed specifically for the Ford Transit Connect van.
"VMAC is the first air compressor manufacturer to develop advanced air systems designed specifically for commercial vans," says Gordon Duval, VMAC's vice-president of marketing and sales. "Developing a system for the growing van market demonstrates VMAC's agility and responsiveness as a manufacturer to continually understanding the unique challenges of fleet managers and developing solutions for these challenges."
VMAC's Underhood-Lite air system provides 100-percent duty cycle and up to 30 CFM and 150 psi and is proven to work in extreme climate conditions making it the most reliable mobile air compressor available.
Thanks to its engine-mount design, it is the safest air compressor system available for vans. Because the VMAC Underhood-Lite is mounted on the engine, it eliminates the need for expensive and unreliable workarounds for ventilation, and eliminates the need to constantly move an air compressor in and out of the back of the van creating opportunities for damage and injury.
"VMAC's Underhood-Lite installed footprint is very small, with only the separator/cooler tank requiring space inside the van. This frees up about 10 cubic feet of space when compared to other compressors, which is significant in a tightly packed van box," Duval continued.
"We're very proud of this product announcement. It underscores our commitment to exceeding our customers' expectations by continually evolving our advanced air solutions to help them reduce expenses, improve productivity and grow their bottom line."
This is VMAC's third product announcement since March.