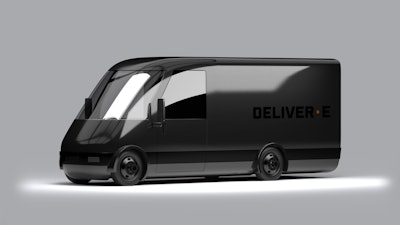 Bollinger Motors continues its march into the nascent electric commercial vehicle space by unveiling today its DELIVER-E all-electric delivery van concept.
Bollinger, based in Michigan, reports that the DELIVER-E leverages the engineering, technology, and components used in the company's current all-electric prototype lineup which includes the B1 SUV, B2 pickup and B2 chassis cab.
"We took our extensive Class 3 electrification knowledge and applied it to the delivery sector," said Robert Bollinger, CEO of Bollinger Motors. "Our DELIVER-E van gives commercial fleets the power to go green and save on ownership costs, while neighborhoods will benefit from a reduction in air and noise pollution."
The front-wheel drive, all-electric DELIVER-E platform will be engineered to fit Classes 2B, 3, 4, and 5 where Bollinger expects the vehicles to offer a "significantly lower" Total Cost of Ownership (TCO) versus conventional gas and diesel vehicles.
To better accommodate fleet needs, various wheelbase lengths and battery packs will be available including 70, 105, 140, 175, and 210 kWh.
DELIVER-E uses the same major components including motors, battery, inverters, and gearboxes as the rest of Bollinger Motor's vehicles, and is based on a new platform created to address the specific needs of delivery vans.
Features of the DELIVER-E include:
Low-load floor height: 18 inches
Variable wheelbases, to accommodate multiple cargo configurations
Scalability to a variety of vehicle classes, including Class 2B, Class 3, Class 4, and Class 5
Choice between battery sizes, including 70, 105, 140, 175, and 210 kWh
High-strength steel frame, designed to a 10-year durability target
While Bollinger would not reveal names, it did report that it will be working with a manufacturing partner to begin producing DELIVER-E vans and trucks in the U.S. in 2022.
Last week, Bollinger announced its new headquarters in Oak Park, Mich. where it plans to double staff in a location about four times the size of its prior location in Ferndale, Mich.
"It couldn't have come at a better time. We were bursting at the seams with new engineers, putting desks out in the shop at the old building; it was especially difficult to keep everyone more than six feet apart," Bollinger said.