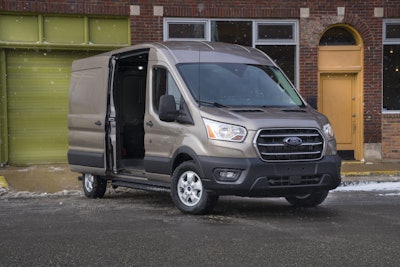 Shrinking lengths of haul and consumer shopping trends that continue to skew heavily toward e-commerce have prompted some carriers to trade tractors for lighter vehicles such as straight trucks and cargo vans.
The smaller equipment comes with some pretty handy benefits, such as better urban maneuverability and fuel economy, and they don't require a CDL to operate, which unlocks scores of potential driver candidates.
The mid-roof Ford Transit 250 is a large vehicle but provides an uncommonly comfortable ride for a van that's more than eight feet tall. I logged nearly 300 miles on an extended test in August, putting the van through the kind of paces found in an urban delivery setting: a mix of highway and rural roads, and in and out of business districts and back-alley delivery lanes.
Tech-saavy
Since its introduction for the 2015 model year, Ford's Transit commercial van has risen quickly through the ranks as a vocational and final-mile workhorse, and for 2020, it received its most tech-rich refresh to date, bringing the commercial model on par with its passenger car siblings.
Ford went all-in on driver safety, making Pre-Collision Assist with automatic emergency braking and Pedestrian Detection, forward collision warning, post-collision braking, Lane-Keeping System and auto high-beam headlamps standard on all models. Pre-Collision Assist warns of an impending impact and later intervenes to either take over emergency braking or support the driver with maximum braking. After impact, the system keeps the brakes engaged, preventing the van from rolling away and potentially causing another accident.
Prior models featured lane departure warning, but for 2020, Ford went a step further with lane-keeping assist. Electric power steering enables the system to steer (or lightly nudge) the vehicle back into its lane, but the driver easily can override it with minimal manual input.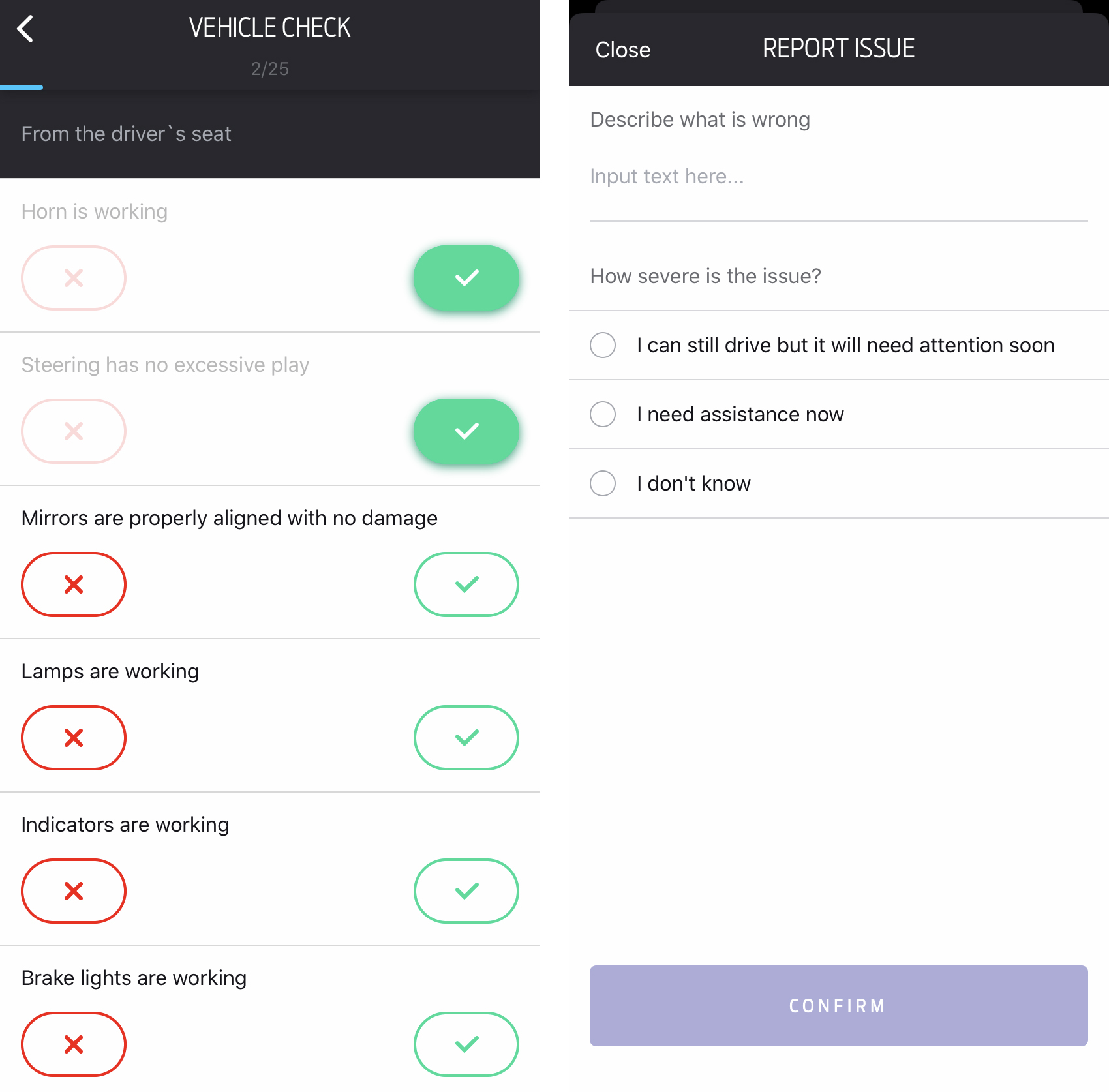 The feature is standard but can be deactivated by drivers like me. Even though the system can center itself in the lane, the driver still is required to maintain contact with the wheel. The system gives a visual warning through the information display telling the driver to put their hands on the wheel before sounding an audible alert.
I like to make a Man vs. Machine game out of keeping the vehicle so centered manually that the system thinks my hands are no longer on the wheel, and I hit a point where I was winning with regularity and got tired of hearing the alert, so I simply turned it off.
Additional available features include Adaptive Cruise Control, front and rear split-view camera, adjustable speed limiting and Enhanced Active Park Assist to simplify maneuvering into parallel or reverse perpendicular parking spots.
Ford debuted its web-based telematics software platform and subscription service in June, allowing commercial vehicle customers to monitor their fleet with GPS tracking and geofencing, get live vehicle health alerts, set reminders for vehicle service, analyze driver behavior and help manage fuel usage to potentially reduce costs.
As part of a Ford Telematics subscription, commercial customers also have access to Ford Telematics Drive, a mobile app that associates drivers with a given vehicle. The app is fairly intuitive and features a 25-point pre-trip inspection. Any issues flagged by the driver immediately take them to a DVIR where they can describe the problem and notate its severity. Fleet managers can monitor the report for faults, or simply to ensure their drivers are performing prescribed checks.
Lee Gross, global product owner for Ford Telematics, said the app is meant to be a companion for drivers that feeds information to the fleet manager. Future iterations likely would feature more two-way communications between the driver and the back office, he said.
On the telematics side, the back office gets a full recap of the driver's day, including their route, any incidents of harsh braking or aggressive acceleration, speeding and an array of other driving habits that adversely can affect insurance premiums. Management can set up alerts for when the vehicle enters and leaves a geofenced location, including a timestamp. The platform's back end also shows idle time, enabling discussion with drivers who need a fuel economy tutorial.
Transit also features an embedded FordPass Connect modem with 4G LTE Wi-Fi hotspot and connectivity for up to 10 devices, perfect for those Zoom calls from the boss while you're out on a run.
On- and off-road manners, still driver-focused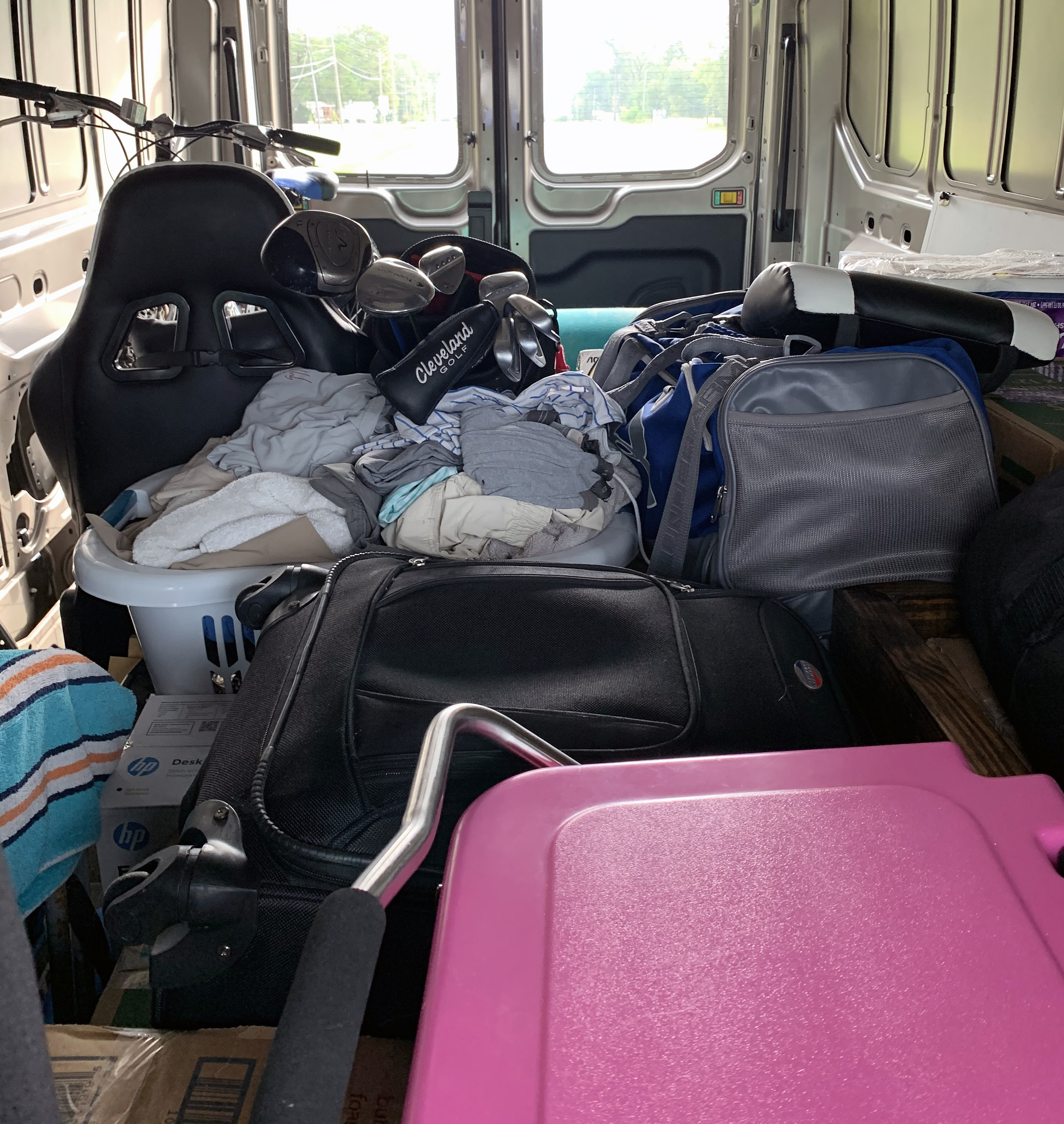 Also new for 2020 is optional all-wheel drive (AWD). Ray Eyles, chief program engineer for Ford Transit North America, said the feature was driven by customer demand for better control in low-traction environments such as mud and snow. Going with AWD versus a 4X4 configuration allows fleet managers to take the decision away from the driver of when the 4X4 should and should not be engaged, because the AWD system is always on.
"Working drivers are often not expert drivers," Eyles said. "Employers are not employing CDL drivers. They are expecting them to jump into a van and do a job without formal or specialized training. The vehicle just has to get the job done."
In normal mode, the AWD system dynamically monitors and optimizes torque output with the capability of sending 100% of available torque to the front wheels to help prevent slipping, and by using the vehicle's selectable drive modes, the driver can engage different modes – mud, ruts or slippery – at any speed to increase capability in challenging conditions.
The single-speed transfer case also allowed Ford to power all the wheels without taking up a bunch of additional space or increasing the van's 68-inch ride height (the same as rear-wheel-drive models), making ingress and egress easier.
Vans equipped with the 3.5-liter EcoBoost engine, which mine was, get a larger grille for better cooling, and all Transit engines are mated to a Ford 10-speed transmission. This setup proved more than capable and really shined on a loaded 200-mile-plus run from my hometown to Starkville, Mississippi. The van and I helped move a friend's son back to Mississippi State University. This child's entire life fit in the back of the Transit and never came close to challenging the 357 cubic feet of cargo volume or the 3,460-pound payload capacity.
If you've never experienced a collegiate "move in day," it's basically 4 million people smashed into a parking lot designed for 50 cars. The Transit, thanks in part to its ADAS bells and whistles, made navigating through the horde fairly uneventful.
A work van is as much of a tool as it is a vehicle, but Ford with this model year unlocked a few more interior options for buyers wanting warmer and more contemporary colors on more durable fabrics.
The instrument panel is laid out across the vehicle's width for better ergonomics, and A-pillar grab handles have been added to the driver's side.
The backup camera display has been removed from the rearview mirror and put into a standard 4-inch full-color multifunction display or an 8-inch slim-line touchscreen, unless you spec out the screen entirely — a practice deployed by fleets that want the radio removed to decrease driver distraction. The rearview camera is mounted above the doors, making backing easier when the cargo doors are open.
Final-mile frontier-capable
Eyles said Ford has seen an uptick in e-commerce and delivery and has been working to tailor products toward the segment. The biggest shift in the market, he said, has been from low- to high-roof van configurations, as that switch alone tacks on an additional 200 cubic feet of cargo volume.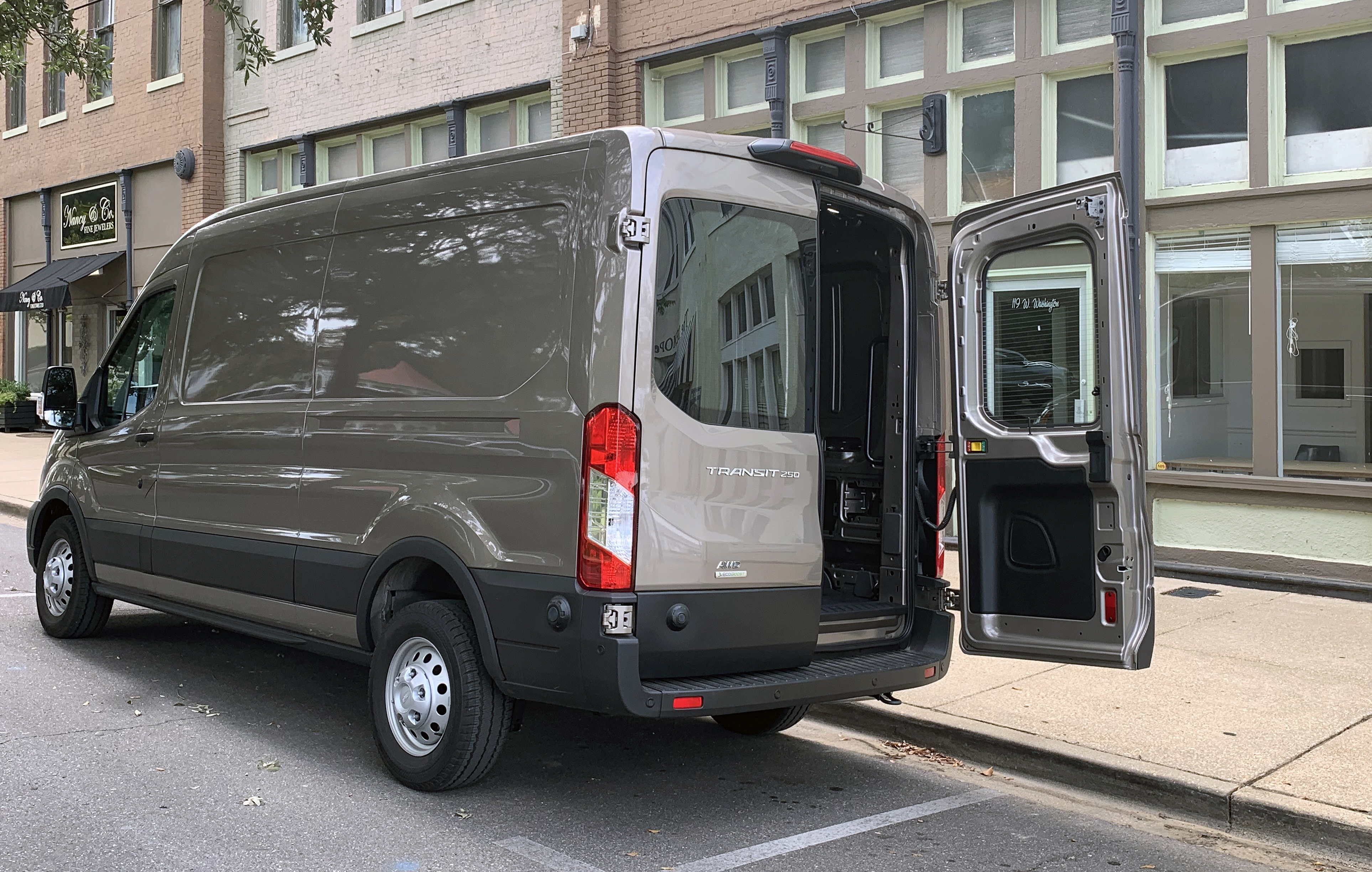 John Ruppert, Ford's general manager of commercial and government fleet sales, said the company has noted growth in general freight volumes over the last five years encompassing a wide range of vehicles, including significant growth in full-size cargo vans.
"A major driver in the delivery and e-commerce space in recent years has been an evolution of hub-and-spoke distribution that is impacting all types of vehicles," Ruppert said. "In this model, many businesses are using medium-duty trucks to do mid-mile deliveries, and then using vans to provide transportation from the distribution centers to retailers or end-user customers. At the same time, COVID has forced a lot of companies to evolve their business models to include new delivery strategies, both for survival and for long-term success. While we see growth in Classes 2-7 chassis cab and stripped chassis, cargo vans are growing the fastest right now, because the last-mile ecosystem is what's really exploding."
Ruppert believes there's an element of permanency to the growth in last-mile delivery as customers become more accustomed to having all these products and services delivered.
"People like convenience," he said. "Looking ahead, the last-mile and mid-mile delivery space is also a natural incubator for the evolution into autonomous vehicles, electrification and other advanced technology."
Transit provides a lot of convenience, both for fleets looking to pack on more final-mile business and for drivers who don't want to ride a liftgate up and down all day, bounce around the cab in a spring seat or hop in and out of a step-side van. And it does so with a blue-collar elegance, finesse and comfort not often found in the pickup-and-delivery segment.