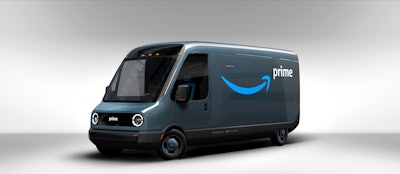 As part of its goal to meet stringent climate requirements in the Paris Agreement ten years early, Amazon has inked a deal with EV start-up Rivian to buy 100,000 electric vans.
Amazon's historic purchase, the largest ever for electric delivery vans, follows their $700 million investment in Rivian in February. Amazon's latest investment of $440 million for Rivian's electric vans is expected to accelerate production with the first vans rolling out in 2021.
Amazon plans to have 10,000 of the new electric vehicles on the road as early as 2022 and all 100,000 vehicles on the road by 2030, saving 4.4 million tons of carbon per year by 2030.
Amazon and Global Optimism crafted The Climate Pledge as a commitment to meet the Paris Agreement 10 years early. Amazon is the first signatory of this pledge. The Climate Pledge calls on signatories to be net zero carbon across their businesses by 2040—a decade ahead of the Paris Accord's goal of 2050.
"We're done being in the middle of the herd on this issue—we've decided to use our size and scale to make a difference," said Jeff Bezos, Amazon founder and CEO. "If a company with as much physical infrastructure as Amazon—which delivers more than 10 billion items a year—can meet the Paris Agreement 10 years early, then any company can. I've been talking with other CEOs of global companies, and I'm finding a lot of interest in joining the pledge. Large companies signing The Climate Pledge will send an important signal to the market that it's time to invest in the products and services the signatories will need to meet their commitments."
Late last year during Rivian's pickup and SUV reveals at the LA Auto Show, the company's engineering director Mark Vinnels told Hard Working Trucks that the skateboard platform design of the EV chassis supporting Rivian's R1T pickup and R1S SUV could be also be used for a van.
Rivian would not comment on the van's size and capabilities. During last year's reveal, the company reported that the R1T and R1S offer up to 400+ miles of range. Vehicles will be produced at Rivian's manufacturing plant in Normal, Ill.
Amazon is no stranger to commercial EVs. Last summer, Mercedes-Benz announced that the web retail giant would be acquiring 100 all-electric eVitos delivery vans for use in Germany.