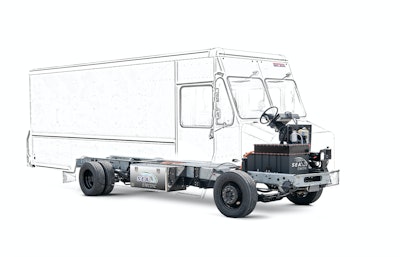 SEA Electric announced that its first electric Ford F-59 van is in production at Ford's Detroit Chassis Plant in Detroit.
The F-59 EV chassis will be paired up with a Morgan Olson Walk-in Van body and is expected to go to work with a leading package delivery company this fall in the greater Detroit area.
"This is an exciting step forward for SEA Electric's global footprint and a positive result for our USA operations who are currently working towards fulfilling several orders in the pipeline," SEA Electric CEO Tony Fairweather said.
The van will be powered by a SEA Drive® 120b power-system which offers 150kW of continuous power and 250kW maximum power along with 1,844 lb.-ft. torque. With a range of up to 220 miles (350km), zero emissions, fewer moving parts and lower running costs, the 100 percent electric van is ideal for short stop-start delivery runs.
Charge time for the batteries is four to six hours using a 19.2kW single phase 240V on board charger.
"We're confident the fleet customer will love the overall performance of this SEA-Drive® powered delivery van," said David Brosky, SEA Electric's Regional Director – North America. "We anticipate a very successful trial which will lead to substantial follow-on orders from fleet customers within the next 6- 12 months."
John Knudtson, Morgan Olson's Director of Business Development, said, "We see a growing interest, within our portfolio of walk-in step van customers, to include electrified work trucks within their fleets. We're pleased to be working with Sea Electric on this new Ford F59 electric chassis. In the past, we've built numerous step van bodies on various alternative powertrains and are pleased with how our body has adapted to the new Sea Electric platform. "
SEA Electric is an Australian automotive technology company that locally develops and assembles electric-powered vans, commuter busses, and light/medium duty rigid truck models using its proprietary SEA-Drive® power-systems. Additionally, the company also works closely with a selection of leading American truck companies and brands including Ford, Isuzu, and Chevrolet to engineer and locally assemble SEA Electric power-systems to their vehicles.
SEA Electric head office operates from a facility in Melbourne with plans underway for a large-scale assembly facility in the Latrobe Valley in regional Victoria.
For information about SEA Electric's electric commercial vehicles please contact David Brosky, regional director, SEA Electric.