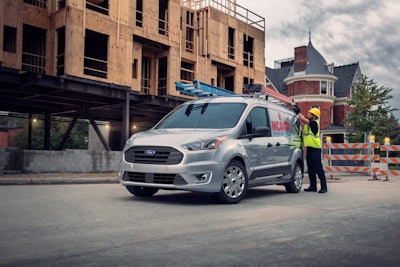 Ford has dropped the diesel option and one of its wheelbases for its 2019 Ford Transit Connect.
Last year, Ford announced the van would be available with a gasoline-fueled 2.0-liter inline four-cylinder engine, a 2.5-liter inline four gaseous prep package and a 1.5-liter EcoBlue diesel. Lackluster demand, however, led to changes.
"Ford Motor Company no longer plans to offer the Transit Connect diesel engine option and short wheelbase wagon due to lack of market demand," Ford Commercial Vehicle communications spokesperson Elizabeth Kraft said.
"That said, with EPA-estimated fuel economy ratings of 24 mpg city, 29 mpg highway and 26 mpg combined, the 2019 Ford Transit Connect Passenger Wagon with 2.0-liter gasoline engine has best-in-class highway and combined fuel economy ratings, and the highest overall fuel economy ratings among small vans in the United States," Kraft continued.
The 1.5-liter diesel was projected to get 30mpg highway, or one mpg better than the 2.0-liter gasser.
Ford's standard new 2.0-liter inline four-cylinder gasoline direct injection engine with Auto Start-Stop is paired to a new 8-speed automatic transmission. The engine is E85-compatible and comes
with a standard heavy-duty battery and available heavy-duty alternator designed for demanding upfit applications.
The 2.5-liter inline four-cylinder CNG/propane gaseous fuel prep package is paired with a 6-speed automatic.