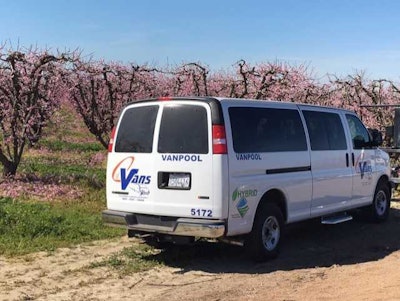 XL announced the largest single hybrid van deployment in California history today.
California Vanpool Authority (CalVans) received 154 hybrid GMC Savana passenger vans upfit with XL's driveline hybrid technology.
CalVans expects its new vans to deliver a 25 percent increase in fuel economy over its standard gasoline-powered fleet vehicles, saving money on fuel costs while helping to achieve sustainability goals. The new vans will be used to transport seasonal agricultural workers.
"CalVans is dedicated to improving air quality for communities most impacted by pollution by increasing access to clean transportation," said Ronald Hughes, executive director of the California Vanpool Authority. "After exploring battery electric options, we quickly realized that upfitting our GMC Savana vans with XL's hybrid electric technology would be the best option to help improve our MPG and reduce emissions in a cost-effective way.
CalVans is participating in the Agricultural Industries Transportation Services (AITS) program, which provides qualified agricultural workers with safe, affordable transportation. The project, funded by the California Air Resources Board, is increasing access to zero-emission and near zero-emission transportation and mobility options for low-income residents.