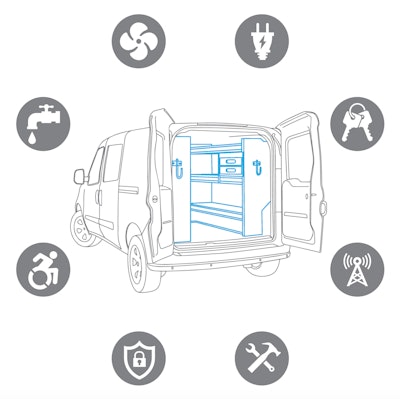 After tracking the rise of work vans in the fleet and commercial industry, Work Truck Solutions, the company that brings commercial vehicle dealers and buyers together through a solutions packed website, recently launched a new addition to their site dubbed VanBuilder.
Tailored specifically to sell more vans through a dealership's website, VanBuilder helps online shoppers find the right van interior package for their business needs, and then matches that upfit with compatible vans in the dealership's inventory.
"VanBuilder reassures buyers that their dealership understands their van upfit needs. It also offers a more interactive experience for van buyers than the typical online experience," stated Kathryn Schifferle, CEO of Work Truck Solutions. "With VanBuilder, a dealer can offer specific information on the type of vocational package their customers want. This creates more qualified leads and allows the dealer to provide their customer with an entire solution, including financing the entire bundle."
Three years ago, sales of Euro-style vans eclipsed sales of body-on-frame vans in North America for the first time, and since then commercial van sales have continued to take share from trucks, according to Work Truck Solutions.
"Several new industries are adopting work vans as their vehicle of choice, fueling their rapid growth in America. Vans are more nimble and save on gas, which makes them a good fit for many businesses," Work Truck Solutions reports. "For example, the rise of e-commerce has created a demand for last-mile delivery, often called 'final mile.' Add to that farm-to-table, home security, online grocery, and many 'white-glove' services, which involve not just delivery, but also assembly, setup and installation. Vans have been and continue to be a big growth opportunity for dealers."
Not only can a dealer use VanBuilder to leverage their on-lot van inventory but, if they choose, they can use Work Truck Solutions' dealer trade network van inventory to give their buyers much more options.
VanBuilder also introduces buyers to new upfit package options making it easier and quicker for the dealer to arrange the upfit and deliver a complete solution to their customer.
Dealers have total control over which van upfits and companies they want to showcase. VanBuilder currently supports Masterack, Sortimo, Adrian Steel, and KargoMaster, with more partnerships in the works. VanBuilder also gives dealerships data and insight into the types of vans and upfits buyers in their market are looking for, which helps them stock smarter in the future. VanBuilder is free for all Work Truck Solutions network dealers.
For more information, visit www.worktrucksolutions.com/more-solutions/vanbuilder.