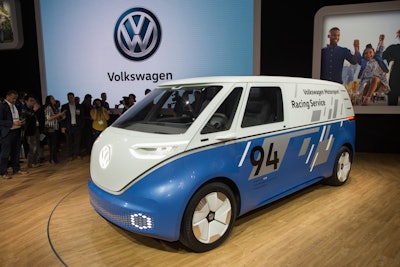 Volkswagen and Ford announced today a partnership to build commercial vans and medium-duty trucks to meet anticipated growth in those segments.
In addition, Volkswagen and Ford will look into collaborating on autonomous vehicles, mobility services and electric vehicles and have already started to explore opportunities, according to Ford.
The announcement follows VW's nod to electric pickups at the L.A. Auto Show in December.
"It'll come. One will come. I think there's an opportunity there," VW Group of America President and CEO Scott Keogh told Hard Working Trucks when asked about the likelihood of an electric pickup shortly after revealing his company's all-electric I.D. Buzz Cargo concept van shown above (video of the interview is posted below).
"If you look at most of the big pickups, 70 percent is commercial," Keogh continued. "Can you get them what they need with the batteries today? For longer term, it's going to happen. I have no doubts. It's a smart concept, a smart idea."
VW's partnership with Ford is expected to generate vans and medium-duty trucks for global markets beginning as early as 2022. However, it's not clear at this point if any of those vehicles will be electric.
What is clear are VW's plans for electrification. Keogh said the company plans on investing $38 billion in EV technology which includes building 16 EV factories around the world and launching no fewer than 50 EV models by 2025.
Ford is also investing heavily in EV as well as autonomous vehicle technology. The company announced in November that it expects to invest $4 billion in its AV efforts through 2023, including its $1 billion investment in Argo AI. In addition, Ford will be investing $11 billion in electrification from 2015 to 2022 to deliver a total of 40 vehicles globally. The company remains on track to deliver a full battery electric performance SUV that offers at least a 300-mile range in 2020.
Commercial van and pickup collaboration
Ford and Volkswagen both have strong commercial van and pickup businesses around the globe, with popular nameplates such as the Ford Transit family and Ranger as well as the Volkswagen Transporter, Caddy and Amarok.
The companies' collective light commercial vehicle volumes from 2018 totaled approximately 1.2 million units globally, which could represent the industry's highest-volume collaboration as production scales.
Demand for both medium pickups and commercial vans is expected to grow globally in the next five years. The alliance will enable the companies to share development costs, leverage their respective manufacturing capacity, boost the capability and competitiveness of their vehicles and deliver cost efficiencies, while maintaining distinct brand characteristics.
Through the alliance, Ford will engineer and build medium-sized pickups for both companies which are expected to go to market as early as 2022. For both parties, Ford intends to engineer and build larger commercial vans for European customers, and Volkswagen intends to develop and build a city van.
"Over time, this alliance will help both companies create value and meet the needs of our customers and society," Ford CEO Jim Hackett said. "It will not only drive significant efficiencies and help both companies improve their fitness, but also gives us the opportunity to collaborate on shaping the next era of mobility."
Volkswagen CEO Dr. Herbert Diess welcomed the partnership.
"Volkswagen and Ford will harness our collective resources, innovation capabilities and complementary market positions to even better serve millions of customers around the world. At the same time, the alliance will be a cornerstone for our drive to improve competitiveness."
The alliance, which does not entail cross-ownership between the two companies, will be governed by a joint committee. This committee will be led by Hackett and Diess and will include senior executives from both companies.