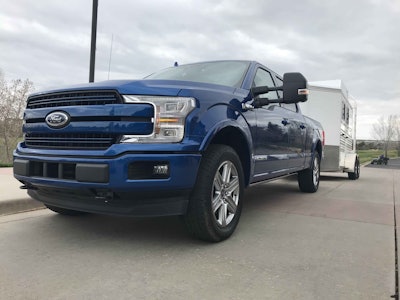 From Class 1 to Class 8, we had quite a few test drives this past year and for your convenience we've rounded all of them up below. Just click on the link to pull up the story.
Test drive: ZF's latest 8-speed transmission aims to dominate Class 5 – 8. We got some seat time in a Ram 3500 equipped with ZF's new 8AP PowerLine transmission. The result? More power and better fuel economy.
Test drive: Ford's 3-liter F-150 Power Stroke. The long-anticipated diesel engine finally makes its way into Ford's popular F-150 and delivers plenty of torque and fuel efficiency.
Test drive: Chanje's fully electric cargo van. Plug it and go. The V8070 cargo van takes the aftermarket out of the equation as Chanje CEO Bryan Hansel hopes to capitalize on a waning global appetite for fossil fuels.
Video test drive: 2019 Ford Ranger. Ford's midsize truck returns for model-year 2019 and comes out strong claiming best-in-class torque, fuel economy, towing and payload.
Test drive: Mack Anthem 6×2 with turbo compounding MP8. Anthem replaced Mack's Pinnacle axle-back models, and even though production only officially ramped up at the first of this year, demand for the new truck has exploded. Orders of 70-inch standup sleepers already are two times higher than they were for all of 2017.
Test drive: 2019 Chevy Silverado 2.7-liter turbo packs some punch. Chevy's new turbocharged 2.7-liter gasser provides an impressive lesson in engineering.
Test drive: Popular Peterbilt 567 is a versatile workhorse. A work truck staple for Peterbilt for the last five model years, the 567 was designed with excellent forward visibility and aerodynamic enhancements.
Test drive: 2019 Ram 1500 a luxurious reimagining of a classic American workhorse. For the first time in 25 years, Ram offers a new pickup both inside and out.
Test drive: International MV Series. When International debuted the MV Series earlier this year, it completed the company's Project Horizon product refresh and brought driver comfort and fit and finish to Navistar's medium duty segment.
Test drive video: 2019 Chevy Colorado ZR2 Bison at home on tough Arizona trails. Rock climbing anyone? Chevy teams up with American Expeditions Vehicles (AEV) to offer a serious off-roader.
Test drive: International's new Class 4/5 CV Series: International bowed out of the medium duty vocational segment when it mothballed its TerraStar model in 2015, but the Lisle, Ill. truck maker is taking a curtain call nearly 4 years later with a new Class 4/5 truck.
Test drive: Kenworth's hydrogen fuel cell T680. Kenworth's hydrogen fuel cell Zero Emissions Cargo Transit (ZECT) T680 tractor, is the fruit of a $7 million project between the Kirkland, Wash., truck-maker, the U.S. Department of Energy Office of Energy Efficiency and Renewable Energy and Southern California's South Coast Air Quality Management District.
Test drive: Severe duty International HV delivers driver comfort. Severe duty and driver comfort aren't two things that usually go hand-in-hand, but the inspired refinement of International's HV Series lineup brings fit-and-finish to an unfamiliar place: the worksite work horse.