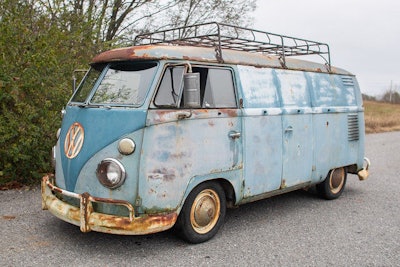 Mike Wolfe from the popular American Pickers TV show is auctioning off his 1962 VW Double-door panel van.
As of tonight, 70 bids have gotten the price up to $30,888 on ebay.
The van's 40-hp four-cylinder engine, rebuilt by Brothers VW Machine Shop in Ontario, Calif., has been paired up with a Rancho rebuilt T3 manual transmission.
The van reportedly runs and drives great and has a solid cargo floor. Though it's said to have a 'perfect patina,' rust has penetrated some of the roof seam, according to the listing which ends Monday at 1:36 p.m. Central.
Update: The van sold for $35,100. Though Haggerty's website didn't list the same van, they appraised a 1962 VW Transporter (four-door, 15 window) for an average value of $27,900. Not bad.