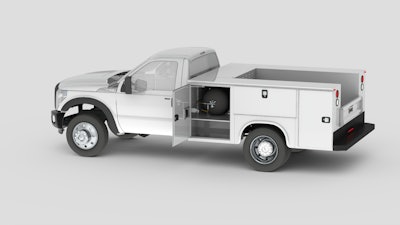 Landi Renzo USA announced CARB Certification for the 2019 Ford Compressed Natural Gas (CNG) F-250/350 6.2-liter V8 Super Duty Truck and the E-350/450 6.2-liter V8 Cutaway and Strip Chassis.
The CARB Certifications/Executive Orders are available via the links below on CARB's official website:
Test Group – KLDRD06.2C10; Vehicle Class MD4 – F-250/350
Test Group – KLDRD06.2C12; Vehicle Class MD5 – F-350
Test Group – KLDRD06.2E10; Vehicle Class MD5 – E-350/450 6.2L
Landi Renzo, a Ford Qualified Vehicle Modifier (QVM) system developer and installer for Ford, announced that this is the first new full vehicle emissions certification in the industry, using Ford's laboratory and meets Ford's Qualified Calibration Modifier (QCM) standards. Using a Ford QCM calibration, the OEM warranty remains in place, a critical specification for commercial fleets.
Packages for the F-250/350 include in-bed tank, underbody tanks, and service body options. All products from 10,000 pounds and under comply with Federal Vehicle Motor Safety Standards (FMVSS) through physical crash testing.
In addition, Landi Renzo does not cut or remove any OEM cross members to accommodate tanks which will compromise the structural integrity and safety of the vehicle. In addition to compliance with FMVSS standards, Landi Renzo product fully complies with Ford requirements under the QVM program.
Vehicle technology continues to get more complex and it's important to work with a company partnered with Ford. Together, this collaboration is able to achieve OBD and Emissions Requirements, while delivering vehicle performance at the highest level.