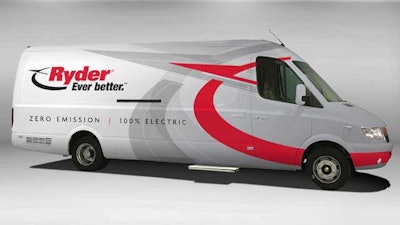 As technology improves—largely driven by improvements in battery capacity and charging times—all-electric powertrains are slowly, but surely entering the more-demanding arena of commercial trucks and vans.
Evidence of that continued this week as FedEx announced plans to acquire 1,000 battery-powered Chanje cargo vans. One hundred of the vans will be purchased from Chanje Energy while the remaining 900 will be leased from Ryder System which will provide support services for all the vehicles.
Such a large EV acquisition caught our attention and led to several questions. Special thanks to Chanje Marketing Director Ian Televik for getting back to us so quickly.
HWT: It's impressive that each Chanje van will save an estimated 2,000 gallons of fuel each year. But how does that compare to charging costs?
Televik: Compared to a diesel equivalent, a Chanje vehicle will save customers approximately 70 percent in fuel costs. (The fuel savings calculation comes from comparing an industry average of 12-15 MPG for diesel class 5 and class 6 trucks and comparing that to Chanje's 50 MPGe).
HWT: What's the acquisitional cost difference between an EV van and a conventional one? A percentage is fine.
Televik: Pricing varies based on many factors such as the number of units ordered, leasing versus buying, and whether energy services is a part of the contract. The total cost of ownership for a Chanje electric vehicle is better than an equivalent internal combustion engine vehicle because of the 70 percent savings in fuel costs and up to 70 percent lower maintenance costs.
HWT: What's the estimated annual maintenance cost of the Chanje EV van and how does it compare to a comparable, conventional van?
Televik: A Chanje vehicle will save customers up to 70 percent in maintenance costs compared to a diesel equivalent vehicle. For example, the regenerative braking in a Chanje electric vehicle means that drivers use their brakes less, saving operators money for brake pads.
HWT: A thousand Chanje vans is an attention-getter. With that level of purchase, did Chanje and/or Ryder help defray the cost of charging infrastructure? Provide free training of any kind?
Televik: Chanje, Ryder and FedEx are working together to provide training for drivers and fleet managers. There is more to come later about charging infrastructure.
HWT: Seems like a tall order to have charging stations in place for 1,000 EV vans. Please briefly describe the role any utilities played in establishing a charging network. Did any utilities help lower the cost of charging infrastructure?
Televik: FedEx is working closely with electric utilities and governments in key markets to make sure the system can support the large-scale use of electric vehicles.
HWT: Please describe any tax credits that helped lower acquisitional and operational costs.
Televik: Currently, California is providing incentives for electric vehicles and their charging equipment. This allows FedEx to maximize the purchase and lease investment.
HWT: How does the Chanje van's cargo capacity of 6,000 pounds compare to a conventional van that FedEx would ordinarily use in its place?
Televik: The Chanje vehicle has the payload and cubic storage capacity of a box truck and the maneuverability of a light duty van.
HWT: Will range and cargo capacity require FedEx to make any route changes?
Televik: No, Chanje works with FedEx to help ensure the vehicles are perfectly suited for their duty cycles.
HWT: Where in the U.S. will the Chanje vans be used? Will topography, air quality and climate play a role in vehicle distribution?
Televik: All of the electric vehicles will be placed in California, including the San Francisco, San Diego and Los Angeles metro areas (See answer 6 for why California).
HWT: Will the Chanje vans be used in freezing climates? If so, does FedEx anticipate a drop in range given colder temperatures? Any plans to mitigate that?
Televik: All the vehicles will be placed in California.