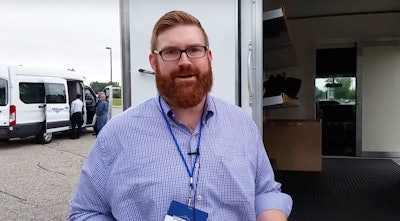 Our next upfitted van this week comes from Bay Bridge Manufacturing located in Bristol, Ind.
Patrick McCarthy, business development manager at Bay Bridge, recently showed us his company's 12-foot parcel delivery van at the Ford Vandemonium event in Dearborn, Mich.
"Parcel delivery's obviously very large," McCarthy says as company aims to carve out a larger niche in this bustling and competitive segment. "Who doesn't order from Amazon?"
The FedEx-approved van has been mounted on a Ford E-350 chassis (video posted below). The upfit is also available on Transit and all other major OEM van chassis.
Packages stay organized on Brute shelving while a new 2500 lumen light provides plenty of visibility.
The body exterior is available in ½-inch fiberglass reinforced plywood or aluminum. A rubber diamond plate floor helps retain footing and keeps packages from sliding around.
A wind fairing option in the cab allows for a locked five-foot door to the cargo area. A bar lock, swing-out side door comes with the 12-foot version, while a pocket side door is available on the 14-foot model.