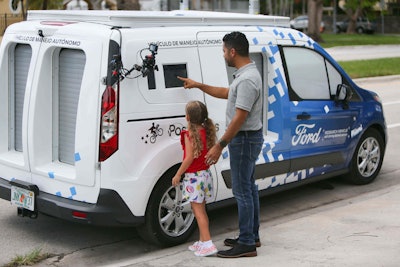 Ford announced today that it's operating a self-driving delivery service with on-demand delivery platform Postmates which features actual drivers.
Yes, you read that right.
Research vehicles for Ford's 70-plus business pilots in Miami and Miami Beach are designed to appear as self-driving, however, they are manually driven by experienced drivers. The focus of the company's research is on the first and last mile of the delivery experience. The automaker is developing its self-driving technology in separate test vehicles.
The data keeps pouring in as residents in the area order food and goods through Postmates and then interact a short while later with an arriving Transit Connect van.
Here's how it works: Customers receive a unique code after they've opted for self-driving delivery through Postmates. When the vehicle arrives at its destination, the customer receives a text notification indicating the delivery is ready for pickup.
Upon meeting the vehicle at the curb, consumers enter their access code into the touch screen which opens a locker. Audio prompts direct the interaction and lights will illuminate one of three lockers.
"We're making interactions with the vehicle as easy as possible through various sensory technologies built into the Transit Connect," said Ford Autonomous Vehicle Business Team Manager Alexandra Ford English.
Having separate lockers allows for additional deliveries. Plus, the lockers are different sizes to accommodate a variety of packages since Postmates offers deliveries from a full range of businesses. Cup holders are included for food deliveries.
"This is our first self-driving research vehicle modified specifically to test a variety of interfaces — the touch screen, the locker system, the external audio system— to inform the design of our purpose-built self-driving vehicle that's scheduled to arrive in 2021," English said.