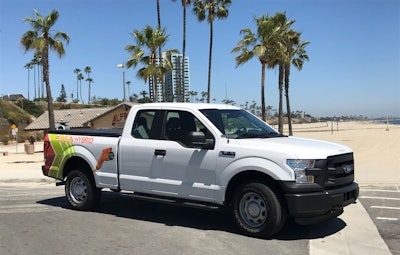 XL announced this week that it's upfitting a combined 38 hybrid and plug-in hybrid electric trucks and vans for the City of Seattle, Los Angeles County and the City of Long Beach to improve fleet efficiency, increase MPG and reduce CO2 emissions.
The municipalities expect to see a 25 percent increase in MPG on hybrid electric models and a 50 percent MPG increase in plug-in hybrid electric models compared to their standard gasoline fleet vehicles.
The orders represent the first hybrid electric cargo and passenger van purchases for Los Angeles County and the City of Long Beach.
The West Coast of the United States has some of the most stringent emissions regulations and aggressive sustainability targets in the nation, and these three municipalities are among those making a long-term commitment to reducing the environmental impact of their fleet vehicles with XL hybrid (HEV) and plug-in hybrid (PHEV) electrification systems.
"The aggressive goals to reduce greenhouse gas emissions are driving the priorities for many state fleets and utilities," said Clay Siegert, co-founder and chief operating officer of XL. "The XL technology is one of the few ways that local city and county fleets can immediately move closer toward these goals in a cost-effective and scalable way, without having to wait for charging or alternative fueling infrastructure to catch up to vehicle demand."
With XL's Fleet-Ready electrification technology, customers can improve fuel economy and reduce emissions without needing to invest in additional charging or fueling infrastructure, and with no impact on vehicle performance or driver requirements.
Andrea Pratt, green fleet program manager of the City of Seattle, said the city is acquiring 13 HEV Ford ambulances and cargo vans.
"We are constantly looking for ways to reduce fuel and emissions, but most options come with a heavy price tag," Pratt said. "XL, however, does not have high incremental costs, and it's an easy technology to incorporate, so our partnership with the company allows us to stay competitive with our green technology and work towards our sustainability goals."
The City of Long Beach is adding eight PHEV Ford F-150s and 11 HEV Ford cargo vans to its fleet.
"We are always striving to be a leader in leveraging alternative fuel options for all applicable vehicle purchases," said the city's acquisitions superintendent, John Seevers. "XL provides our fleet with cost-effective fleet electrification technology for our fire department, public service, parks department and other applications."
Mike Quan, C.P.M for the County of Los Angeles Internal Services Department, pointed out the benefits of XL's telematics program for their six HEV Ford cargo vans.
"The XLH system is helping us to be in line with the California greenhouse gas reduction standards for the vehicles we use in the County," Quan said. "And the XL Link telematics program will allow us to measure and analyze speed, idling, vehicle drive cycle, CO2 emissions reductions and MPG."
XL hybrid and plug-in hybrid electric technologies both leverage regenerative braking to capture and store energy during the braking process, and provide electric torque for acceleration. The company's plug-in hybrid system, which leverages a 15 kWh lithium-ion battery pack, can be charged using standard wall outlets, or level 1 and 2 chargers.
The XL team is showcasing its XLH hybrid-electric Ford F-250 and XLP plug-in hybrid electric Ford F-150 through Thursday this week at the Government Fleet Expo through Thursday this week in San Diego. Attendees can see the new Super Duty hybrid pickup truck in booth 920. For more information about XL fleet electrification technology, fleet managers can also contact [email protected].