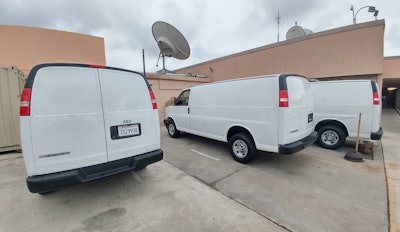 The San Diego County Office of Education recently announced that it's getting new vehicles through Enterprise Fleet Management which it says will save the county $1.1 million in maintenance costs while reducing fuel consumption and vehicle emissions by 30 percent over the next 10 years.
"Our partnership with Enterprise Fleet Management is not only saving taxpayer dollars, but also allowing us to reduce our carbon footprint and put our employees in newer vehicles with the latest safety features," said Bill Carpenter, Senior Director of Maintenance and Operations at SDCOE. "We plan to apply the considerable savings we realize on fleet costs to other pressing needs for our students and schools."
The new vehicles, which so far includes a mix of 2018 Chevy Express 2500 vans and 2018 Chevy Malibus, are also packed with the latest in safety and crash avoidance technologies such as electronic stability control and backup cameras.
Over the next five years, SDCOE will be replacing its 120-vehicle fleet which has an average vehicle age of well over 10 years. Since the new vehicles will require less overall maintenance, SDCOE anticipates cutting its monthly per vehicle maintenance costs by 13 percent.
County staff use the vehicles, a combination of cargo vans and sedans, for travel between schools and other SDCOE facilities. SDCOE also provides a variety of services to the 42 school districts, 124 charter schools and five community college districts in the county.
Enterprise uses local businesses to provide routine service and delivery of the vehicles. Once the vehicles have reached the optimum point in their lifecycle, Enterprise reports that it will remarket the vans and cars for resale "to ensure that the county office receives the highest possible resale value for its fleet."
"Our customized program allows the San Diego County Office of Education to focus on the important work they do for the county, while leaving the details of managing their fleet of vehicles to us," said Anna Lees, Account Manager for Enterprise Fleet Management in San Diego.
Enterprise Fleet Management operates a network of more than 50 offices and manages a fleet of more than 470,000 vehicles in the U.S. and Canada. The business provides full-service fleet management for companies, government agencies and organizations operating medium-sized fleets of 20 or more vehicles, as well as for those seeking an alternative to employee reimbursement programs.
Enterprise Fleet Management takes a sustainable approach to business while partnering with companies, agencies and organizations like SDCOE to help them meet their respective supply-chain and corporate social responsibility goals.
SDCOE partnered with Enterprise Fleet Management through its membership with E&I Cooperative Services, a nonprofit purchasing cooperative serving the needs of education. E&I partners with suppliers like Enterprise that are dedicated to providing high-quality environmentally preferable products and services.