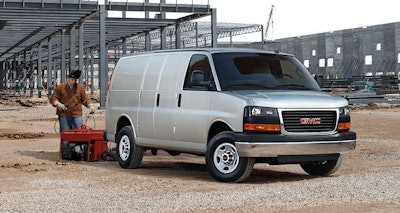 General Motors is coming off a banner 2017 – a year in which the company's commercial and government deliveries reached their highest level in nine years.
At 296,000 units, 2017 marked the first year that GM commercial and government deliveries have been greater than daily rental deliveries in the last quarter century. Based on Polk registration data through October, GM gained more commercial and government market share in 2017 than any other automaker, and the segment is now the largest component of GM's fleet deliveries.
"We've grown our commercial business 11 percent this past year in a market that may be up slightly to flat," says Ed Peper, U.S. vice president GM Fleet. "We've gained 1.5 share points."
Sales of Chevy's reintroduced cabovers have been "progressive" to-date, Peper says, as customers increasingly realize GM has re-entered the segment.
Last year, GM sold a record 948,909 pickups in the U.S., more than any other automaker for the fourth consecutive year. At GMC, more than half of Sierra HD customers opted for the premium Denali models. Denali deliveries set a monthly and full-year record, with penetration approaching 40 percent in December and 30 percent for the year. Full-year Denali deliveries were approximately 140,000 units and the average transaction price (ATP) for Denali are about 25 percent higher than overall GMC ATP.
Much of the growth in GM's pickup segment has been driven by the truck's steel bed construction as Ford continues its transition to aluminum.
"Steel versus aluminum has gotten into everyone's head," Peper says. "The whole thing about the durability of Chevrolet and GMC, the fact we've got a combination of great fuel economy and great payload, is solid for customers."
The company has also seen growth in its commercial van segment. Full size vans in the fleet segment climbed 12 percent with retail up 11 percent. The commercial van segment jumped 7 share-points in the fleet segment, 2 in retail and is up 5 share-points year over year.
Chevy the only North American commercial van OEM who has rejected the European exterior style, and the company's Express cargo van is the only body-on-frame left on the market.
"There are some people who don't love [the European style]," Peper says.