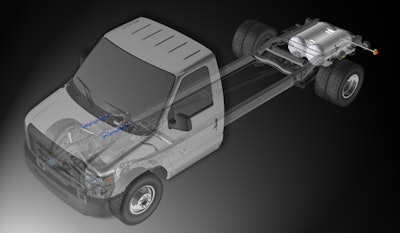 Roush CleanTech announced today that it's developed a propane autogas fuel system for the Ford E-350.
The Ford E-350 single-rear-wheel and dual-rear-wheel cutaway provides public transit agencies a smaller propane vehicle option for servicing routes with fewer customers. It's also ideal for the growing pickup and delivery segment, especially in metro areas where emissions are more of a concern.
"We have well over 1,000 Ford E-450 propane autogas cutaways operating in transit fleets across the nation," said Todd Mouw, vice president of sales and marketing for ROUSH CleanTech. "But, for agencies looking for a smaller, lighter vehicle with our innovative propane technology that maintains the original base Ford warranty, they can choose the Ford E-350 beginning with 2018 model year."
In addition to transit shuttles, the propane-fueled Ford E-350 cutaway is well suited for Type A school buses and delivery trucks in markets such as food and beverage and parcel.
The vehicles maintain the same horsepower, torque and towing capacity as their Ford gasoline-fueled counterparts, and are powered by a Ford 6.8L V10 2-valve engine. They will be certified by the EPA and California Air Resources Board and compliant with heavy-duty onboard diagnostics.
Each of the extended-range shuttles will emit about 90,000 fewer pounds of carbon dioxide over its lifetime compared to gasoline-fueled counterparts. Historically, propane autogas costs up to 40 percent less than gasoline and 50 percent less than diesel, and reduces maintenance costs due to its clean-burning properties.
"As both our technology and propane autogas expand in popularity, we stay committed to developing clean-operating, cost-effective products that serve our customers and meet market demand," said Mouw.
ROUSH CleanTech launched the new propane autogas model at the American Public Transportation Association (APTA) Expo in Atlanta. The propane autogas Ford E-350 cutaway will be available in 2018 model year. Orders are now being taken with deliveries beginning by late spring 2018.