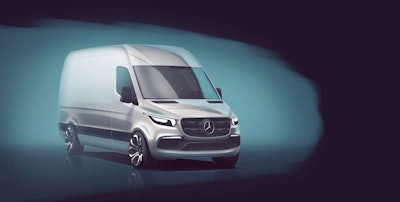 Mercedes-Benz Vans on Sunday offered its first glimpse of a refreshed Sprinter with a design sketch that teases a dramatic shift in the cargo-hauling workhorse's exterior design.
New features, Head of Mercedes-Benz Vans Volker Mornhinweg announced at the kickoff of the North American Commercial Vehicle Show, include a comprehensive introduction of driving assistance systems and connectivity services along with new telematics. The new Sprinter can be more precisely adapted to individual transport and sector requirements thanks to a considerably extended range of variants.
The market launch will begin in Europe in the first half of next year, with the other markets to follow.
The new-look Sprinter will also usher in the company's adVANce initiative, which aims at commercial mega-trends like digitalization and urbanization and a nearly $600 million investment toward the advancement of automation and robotics in vans by 2020.