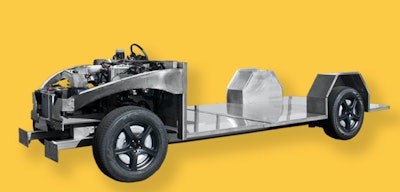 Workhorse announced today that it will be presenting its new Low Floor Delivery Platform Chassis next week at the Post-Expo 2017 at Palexpo in Geneva, Switzerland.
The Post-Expo, which will be held Sept. 26-28, will also feature Workhorse's HorseFly Unmanned Aerial Delivery System, which made the short list for the Post-Expo Postal Innovation Platform Startup Innovation Award.
The Workhorse Low Floor Delivery Platform Chassis is non-corrosive and designed for years of long life. The design will be available in the U.S. in all-electric and range-extended versions.
A low 19-inch floor is designed to maximize cargo space, reduce knee injuries and provide ease of operation. Standard features include all wheel drive, automatic braking and best-in-class 26-foot turning radius and handling for maximum versatility. A custom body can be built on the chassis to best suit individual applications.
Workhorse is taking orders now. Production begins in late 2018.
Earlier this year, UPS and Workhorse successfully tested residential package delivery with an autonomous HorseFly drone from atop an electric UPS step van also built by Workhorse.
"The delivery demonstrates the improved efficiencies drones can provide on rural delivery routes, while reducing vehicle emissions," Workhorse announced in a press release. "This technology could save time and reduce costly driver miles."
HorseFly is a carbon fiber, high-efficiency octocopter delivery drone that is fully integrated with Workhorse's line of electric/hybrid delivery trucks. The HorseFly launches from the roof of a delivery truck and delivers a package to its destination within the driver's line of sight. The HorseFly system is compliant with all current FAA regulations. It can carry a package weighing up to 10 pounds, with an energy cost of approximately $.03 per mile for electricity.