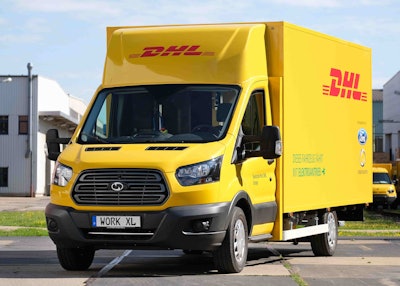 Deutsche Post DHL Group and Ford presented the first of their jointly produced electric delivery vans (e-van) in Cologne, Germany this week.
The vehicle, called the StreetScooter WORK XL, is based on a Ford Transit chassis upfit with a battery-electric drivetrain and a body designed and built to Deutsche Post DHL specs.
In 2017, around 150 early build e-vans will be manufactured in the StreetScooter plant in Aachen, Germany. Deutsche Post DHL will use the e-vans for urban package delivery runs in Germany. Deutsche Post DHL, StreetScooter and Ford plan to build 2,500 e-vans by the end of 2018. Like StreetScooter's existing electric models—the WORK and WORK L—the WORK XL could be also sold to third-party customers.
Each WORK XL could save around 5 ½ of CO2 and 502 gallons of diesel fuel each year. With 2,500 vehicles planned for service, this could result in a total saving of 13,779 tons of CO2 and 1.25 million gallons of fuel every year.
"The new StreetScooter WORK XL expands our e-fleet in the commercial vehicle segment," said Jürgen Gerdes, DHL eCommerce board member. "It is the perfect vehicle for parcel deliveries in major cities and large urban areas, and will enable us to cope with the rising parcel volumes in an even more environmentally friendly and quieter manner. With this commitment, we are also underlining our claim of being the market leader in green logistics."
Steven Armstrong, group vice president and president, Europe, Middle East & Africa, Ford Motor Company, said, "We're really proud of this ambitious project, and of the strong partnership we've developed with Deutsche Post DHL Group and StreetScooter. This joint project will be Europe's largest manufacturer of emission-free, medium-sized e-vans, and it doesn't come a moment too soon. Buses, cars, and of course, delivery vans play vital roles in our daily lives, but we have to find a way to make them cleaner. This project is a great step along this path."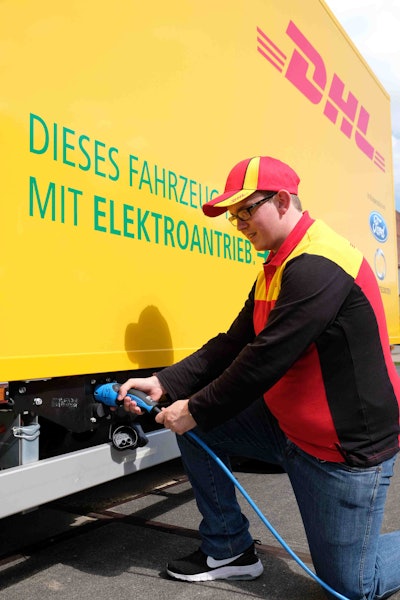 The WORK XL will have a load volume of 706 cubic feet and provide storage space for more than 200 parcels. The e-van is fitted with a modular battery system delivering 30 kWh to 90 kWh of power, giving it a range of between 50 and 124 miles. It has a top speed of 53 mph. Payload capacity is rated at 2,976 pounds. By comparison, the 2017 Ford Transit 150 cargo van equipped with a 3.7-liter engine has a payload capacity of 3,680 pounds, or 704 pounds more than the WORK XL.
The WORK XL's load area is fitted with shelves and is accessible from the driver's cab. The vehicle can be loaded via the tailgate and curb-side sliding door. With a charging capacity of up to 22 kW, the average charging time is three hours. Payload capacity of 2,976 pounds.
In addition to the new WORK XL model, more than 3,000 StreetScooter WORK and WORK L electric vehicles, plus about 10,500 pedelecs (pedal-assisted electric bikes), are currently in service with Deutsche Post DHL, making the group the largest e-fleet operator in Germany.