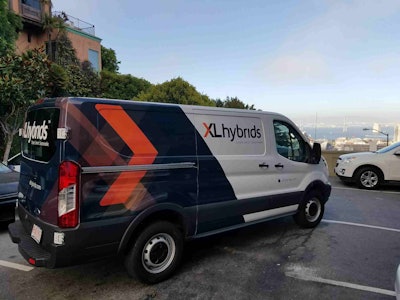 XL Hybrids announced this week that leading fleets across a variety of industries are installing the XL3 Hybrid Electric Drive System.
The award-winning XL3, which fits easily in place of a conventional driveshaft, allows fleets to quickly lower operating costs and meet sustainability goals.
XL Hybrids reports that fleets using the XL3 system get a 20 percent reduction in CO2 emissions and up to a 25 percent gain in fuel efficiency.
"Despite historically low fuel prices across the United States, fleet operating cost savings and sustainability enhancements continue to be priorities for companies and municipalities, and our XL3 hybrid-electric upfit is a low-cost and seamless way to achieve both," said Clay Siegert, co-founder and chief operating officer at XL Hybrids.
New municipalities deploying the XL3 system include the City of Long Beach, Calif., and Dakota County, Minn., while existing customer, the City of Boston, has placed an additional order.
Columbia University is a new XL Hybrids customer, while existing customers Yale and Harvard universities have ordered more hybrid-electric upfits.
Xanterra Parks and Resorts is now using XL3 at Mount Rushmore National Memorial and Rocky Mountain National Park. New commercial fleets ordering from XL Hybrids include Draught Services (a division of The Beer Store) in Canada and Walden Local Meat Co., while existing customer Liberty Utilities has reordered.
These customers are deploying XL3 technology on many types of vehicles including Ford Transit cargo and passenger vans, Ford E-Series passenger shuttles, GM cargo vans and GM 4500 passenger shuttles.
"The wide range of customers, vehicle types and applications demonstrates the versatility of the XL3 system to provide fuel economy improvements, operating cost reductions, and sustainability benefits to fleets," said David Breault, business development manager for XL Hybrids. "Fleet customers continue to reorder because our system can be installed in just hours. Drivers can begin using the vehicles with no extra training, and there is zero impact to fleet operations."
The XL3 saves fuel through regenerative braking, a process by which the electric motor helps slow the vehicle when the driver brakes to charge the battery. When the driver accelerates, the battery releases the energy to the electric motor, helping propel the vehicle. There is no need for charging the XL3 system.