Your cell phone can be easily personalized so why not your vehicle?
That's how Derive Systems Business Development Manager Charlie Mahoney describes his company's approach to engine tuning.
Hard Working Trucks talked with Mahoney recently while test-driving a 2017 Ford Transit that had been tuned for fuel savings following recalibration from Derive's Efficiency tuning system.
"This vehicle typically idles at 650 rpm. So right now it's down to 570 to 580 rpm," Mahoney explained from the passenger seat shortly before we left on a test drive through downtown Indianapolis during The Work Truck Show.
"We guarantee six percent fuel savings in writing. We typically deliver between 8 and 12."
Derive, which traces its roots to race car tuning through parent companies Bully Dog and ST Performance, will train or walk a technician through the process of tuning a Ford or GM fleet vehicle, though it's really not that hard.
The Derive tuner plugs into the vehicle's OBDII port and after making selections, the device will upload a program in an average of 15 minutes that's tailored to that driver's habits and the fleet's needs.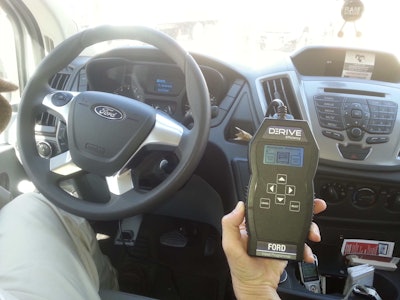 For some vehicles, that might mean limiting top speed.
"If you run an organization where drivers tend to be a little less tenured and they use the gas pedal like a binary switch—it's either off or it's on—we can control that because the factory does put a certain level of what's known as torque management into the calibration. We don't change anything that has to do with air, fuel or timing," Mahoney said.
"What we're changing is when you command 100 percent, we're going to give you 50 to 60 percent up to a certain speed and start giving you a little bit more, and a little bit more so that you don't see a lot of wear and tear on the tires and the drivetrain."
Idle reduction, torque management and economy shifting can all be tuned for around $400. OEM warranties are not effected. Depending on driving conditions, fuel savings typically range between $28 and $48 per month, Mahoney explained.
Consuming less fuel also means emitting fewer emissions, about 19.6 pounds for every gallon of fuel saved. Also, when a speed limiting feature is employed, vehicle insurance savings can kick in.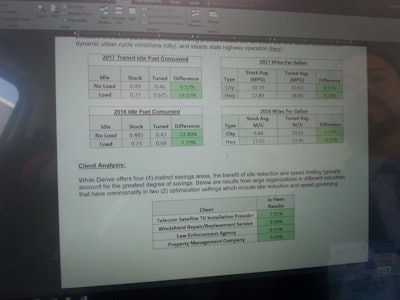 Derive's tuning device comes with a data logger and a diagnostic trouble code reader.
While driving the Transit through downtown traffic in Indianapolis, acceleration was fine and a lower idle speed proved to be a non-issue, in fact, not even noticeable.
Out of all the vehicles at The Work Truck Show's Ride and Drive event, Derive's system was the least costly and easiest to install. The simplicity is attractive and the technology quickly makes sense.
"It's like modifying the operating system on your smartphone. You like certain ring tones. You like certain backgrounds. You're customizing it to the way that you like to use the phone. We're taking what's factory and turning those switches and dials for that type of business that you do," Mahoney said.