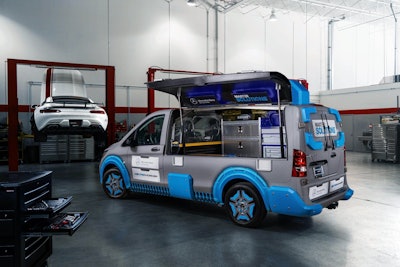 Mercedes-Benz Vans debuted a concept showvan that will support its MasterSolutions Ship-Thru upfit program the company launched last year.
The Metris MasterSolutions concept van is equipped with a wide variety of Ranger Design and Sortimo by Knapheide shelves, racks and removable cases. A durable tile flooring system has been installed in the MasterSolutions Toolbox Van, which provides grip for work boots and is easily removable for thorough cleaning.
A clear, plastic partition from Ranger Design keeps the driver divided from the cargo area while also allowing for easy monitoring of payload. Unique wheels, finished in bright blue and silver, realistic toolbox latches and a handle on the roof compliment the special exterior wrap created for the Metris MasterSolutions Toolbox Van.
Built by RENNtech, the Metris MasterSolutions Toolbox Van is based on the Metris Worker Cargo Van and boasts a more than 2,500 lbs. payload and 5,000 lbs. towing capacity.