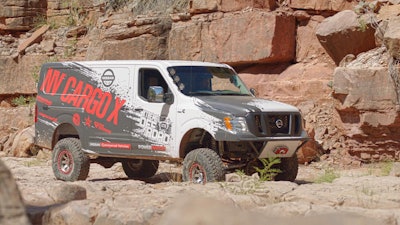 Nissan's NV Cargo X project vehicle will make its world auto show debut at the 2017 Chicago Auto Show next week, but it's already making a name for itself on trails not often found on delivery routes.
Built in partnership with off-road builder Ian Johnson, the NV Cargo X sits more than seven-and-a-half feet tall on 37-inch tires and is powered by a Cummins 5-liter V8 Turbo Diesel borrowed from a Titan XD full-size pickup.
"When I looked at the NV Cargo, I saw a hard-working van with a heavy-duty foundation," Johnson says, "and I also saw possibilities for a rock crawler that could serve as its own support vehicle."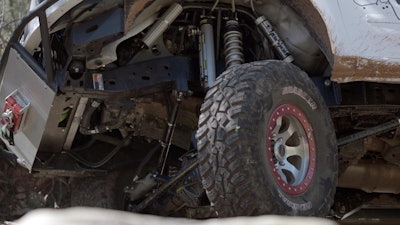 Starting with a stock NV 2500 HD cargo van, Johnson says the NV's rigid, fully boxed ladder frame gave Nissan a rugged advantage over a C-channel frame that would flex and squeak under the stress.
The NV Cargo X received a custom-modified off-road suspension system with enough suspension travel and wheel-well clearance to fit a set of 37-inch General Grabber X3 tires. While the front suspension is 100 percent custom, the rear retains the NV Cargo's standard leaf spring design.
Next, out came the factory 5.6-liter gasoline V8 engine and in its place Johnson fit a Cummins 5.0-liter V8 Turbo Diesel borrowed from Nissan's Titan XD pickup. The engine is rated at 310 horsepower and, more importantly for rock crawling, a hefty 555 lb-ft of torque. The TITAN XD also donated its heavy-duty Aisin 6-speed automatic transmission and advanced 4-wheel drive system.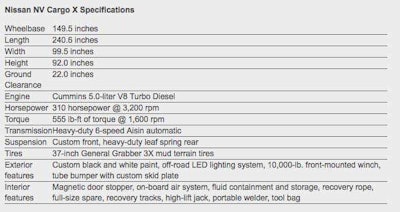 Other exterior modifications included installation of a custom off-road LED Lighting System, 10,000-lb. front-mounted winch and a tube bumper with custom skid plate. A special black-and-white custom wrap finished the exterior.
Next came the challenge of the cargo end of the NV Cargo X.
With 234 cubic feet of available cargo space, the custom build-out utilized the NV Cargo's standard reinforced mounting points and standard cargo containment system. The cargo bay was filled with an onboard air system, fluid containment and storage, full-size spare, recovery rope, recovery tracks, high-lift jack, portable welder and tool bag.