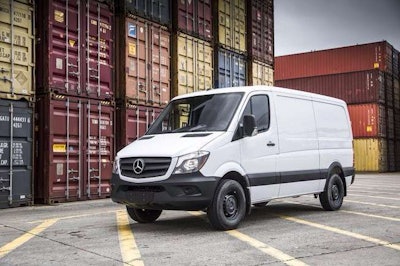 Daimler Vans USA has added additional chassis, engine and body configurations to its entry-level Sprinter Worker series.
Available later this year, the expanded Worker lineup will now also include 170-inch wheelbase and a high-roof cargo van model configuration, with up to 486.5 cubic feet of cargo space and an interior standing height of nearly 6.5-feet.
Previously, Worker was available only on 144-inch wheelbase and low-roof configuration and comes exclusive with the Mercedes 2.1-liter turbo diesel four-cylinder engine.
A 3-liter V6 BlueTEC turbo diesel engine will also be available as an option in the Sprinter Worker cargo van lineup for customers who want something larger than the standard 2.1-liter 4-cylinder diesel.
The optional 3-liter engine is paired with a five-speed automatic transmission and puts out 188 hp and 325 lb-ft of torque. The standard 2.1 liter gets a 7G-TRONIC 7-speed transmission and offers 161 hp and 266 lb-ft of torque.