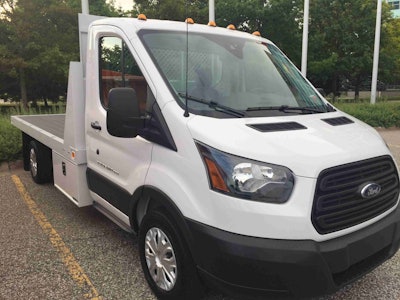 I've penned my feelings for Ford's Transit commercial van before. Check here. Or here.
It's a great commercial van. Ample power. Low cabin noise. Great maneuverability. Top notch all the way around. But part of what makes Transit such a great worksite workhorse is its versatility. Available in three roof heights, three lengths, two wheelbases, with three engines options and in cargo van or passenger wagon configurations, there is a seemingly endless list of upfit possibilities.
Case in point, Knapheide's Value-Master-X (PVMX) platform bed, which was fitted to a 2015 Transit 250 chassis cab I was recently able to drive. Featuring solid steel construction and available in widths of 80 inch for single wheeled vehicles or 96 inch and 102 inch for dual rear wheels, the platform and can be ordered in lengths ranging from 8 feet to 26 feet.
The PVMX comes with different flooring options – wood, steel, diamond plate or Polyboard – and numerous bulkhead styles.
My Transit test unit was equipped with 12 foot platform, 80 inches wide for the single rear wheel unit.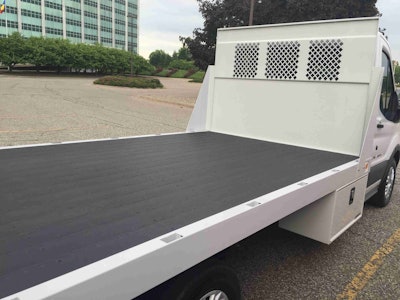 The Polyboard flooring – not susceptible to weathering and cracking – provided a more rugged surface than wood decking, and was lighter than steel flooring. As an added bonus, it looked pretty cool.
The platform featured an LED light kit, an ICC rear bumper and BHG Bulkhead – a drop in rectangular style bulkhead with a punched window for visibility that also featured reinforcing gussets on each side to increase structural integrity
Two 36 inch Roughneck underbody toolboxes were mounted one for each side, as well as an underbody tie down rail. This was more than ample room for my tools of the day: a suitcase and laptop case.
The PVMX is surely to be an attractive option for vocations who need to haul large items on the bed while needing to keep tools and other small accessories handy.