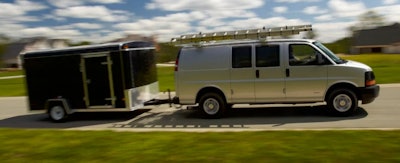 While Euro-vans continue to grow in popularity, General Motors has been busy trying to keep up with demand for its traditional, body-on-frame vans.
Hard Working Trucks checked in with the automaker to learn more about the changing, vocational van market from a Bow Tie perspective.
The biggest takeaway? Variety, familiarity and brand loyalty are important market drivers when it comes to van selection.
First up, Chevy is more than happy to keep filling a gap left behind by Ford.
"There are still many people who prefer the traditional body-on-frame van and for those people the Chevy Express is a great choice," explains Joe Langhauser, commercial product manager, vans, GM Fleet.
"Since Ford eliminated the Econoline full body van, the demand for the Chevy Express has outpaced the supply. We have continued to increase capacity to meet the demand, but we are also seeing significant growth in the van segment which adds to this challenge."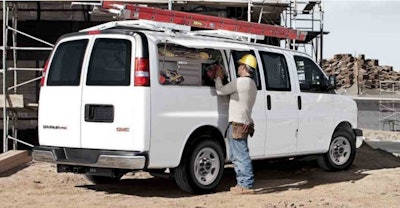 GM's full-size vans are getting even more attention thanks to a recent partnership with Navistar, which will produce cutaway versions of the automaker's G Van. That move will allow for increased production of GM's full-size vans at its Wentzville, Mo. Assembly plant.
Still, some GM fans have expressed disappointment at not seeing a GM Euro-van. The two other major U.S. automakers have been busy getting Euro-style vans on the road: Ford, with its full-size Transit and the smaller Transit Connect; and Dodge, with its Ram ProMaster and smaller ProMaster City.
HWT asked GM why it hasn't joined the trend.
"We feel that with the introduction of the City Express to the family of 2500 and 3500 series vans, we've created a van lineup with various and additional offerings to address the right size vehicle for a customer's needs," Langhauser said.
"This translates to real capability, versatility and value. That being said, we are always studying the market for opportunities."
One of those opportunities is a diesel engine. GM's 2.8-liter Duramax turbo-diesel has proven popular in its midsize Chevrolet Colorado and GMC Canyon, and now that same engine will be offered in the 2017 Chevrolet Express.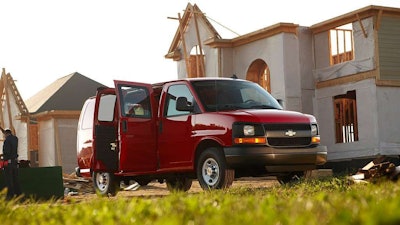 "With the price of diesel fuel relatively low, the introduction of a fuel efficient 2.8-liter diesel engine into the van will make it an even a better value," Langhauser said.
The new diesel option will be in addition to the standard 4.8-liter V8 and an available 6.0-liter V8.
GM acknowledges that the Euro-van market "is warming a bit," especially for consumers interested in a higher roof height. However, there's a strong customer base for its current vans which is being driven by some very important factors.
"The first is that brand loyalty plays a large part in the purchase decisions of our fleets. They know that when they have a Chevrolet work vehicle, they are going to get the very best customer service offered within the industry," Langhauser explained.
"Second, the Chevrolet Express van is still the ideal full-size cargo van, and it contains the cargo room and powertrain requirements that a lot of fleets have today.
"On top of that, our full-size vans come with an unmatched dealer footprint and efficient parts, service and repair accessibility."