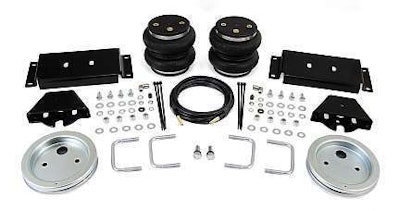 Air Lift's LoadLifter 5000 and LoadLifter 5000 Ultimate are now available for Ram 2013-2016 ProMaster Vans.
Designed for ProMaster 1500, 2500 and 3500 model rear-wheel- drive vehicles, Air Lift's LoadLifter series air spring kit works with your existing suspension to deliver up to 5,000 pounds of leveling capacity.
"The air springs eliminate sagging and bottoming out when towing or carrying heavy loads, while providing a safe, comfortable ride," an Air Lift representative states.
LoadLifter 5000 is Air Lift's heaviest-rated air spring kit and is specifically engineered for hauling or towing heavy loads. LoadLifter 5000 Ultimate offers all the benefits of the LoadLifter 5000 but its exclusive internal jounce bumper provides added shock absorption and extra protection for heavy loads. The jounce bumper also allows the air springs to be safely operated with zero air pressure.
Each LoadLifter kit is designed to be easily installed and features air springs and all hardware. Vehicle frame drilling is not required. For convenient inflation and deflation of the air springs, Air Lift offers automatic, wired and wireless on-board air compressor systems to provide one-touch control of the air springs, from inside the vehicle or remotely.
All Air Lift products are backed by an industry-exclusive lifetime warranty, which covers the entire contents of the air spring kit. The company also ensures satisfaction with a 60-day money-back-guarantee for all load support air springs and on-board air compressor systems.