[imagebrowser id=377]
Last spring, Ford hosted a test drive for media of its soon-to-launch Ford Transit commercial van.
Aside from cargo capacity and fuel-economy improvements that should appeal to fleets, Ford set its sights on another market segment. John Ruppert, general manager – commercial vehicle sales and marketing at Ford Motor Company, told me nearly a year ago that he saw a major opportunity for Transit in ushering in a rebirth of conversions.
Now, barely 11 months later, Transit is now the best selling van in the U.S.
George Jacobs, president of Windy City Limousine in Chicago, bought one sight unseen. Windy City is the only limousine and bus company to be named to the INC 500/5,000 "Fastest Growing Companies in America" list for the last five years in a row. It's the 11th largest limo fleet in the United States (as ranked by LCT Magazine), with more than 400 employees and over 200 vehicles.
Jacobs is a limousine connoisseur. A former five-time president of the National Limousine Association, Jacobs started in the industry with a single used stretch limo in 1979, and then went on to establish two successful chauffeured transportation companies, American Limousine, which he sold in 1998, and Windy City Limousine, which he launched eight years later.
Jacobs saw Windy City's new Transit limo van (the first Ford Transit limo in the U.S.) for the first time when he ceremonially took delivery at the International LCT Show in Las Vegas in March.
Battisti Customs Inc. of Elkhart, Ind., converted a black Transit high-roof, extended wheelbase cargo van into a 13-passenger limo van featuring a wood floor, black leather couch-style seating, two flat-screen TVs and a bar. Light is provided through windows and LEDs that highlight the wood grain finishes throughout.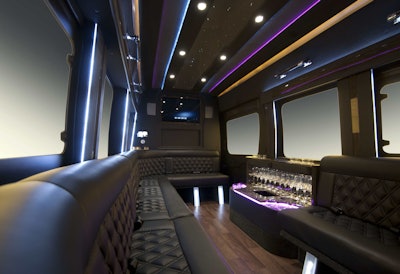 Bill Battisti, president of Battisti Customs Inc., displayed Windy City's Transit limo at the International LCT Show. He said it was a real head-turner.
Ruppert, in that same conversation nearly a year ago, called Transit "an upfitter's dream" and Battisti estimates that the Transit limo van will cost at least $10,000 less than other limo van alternatives.
Transit was tapped to phase out Ford's iconic E-Series commercial van, and it's on a torrid pace to do it in style.