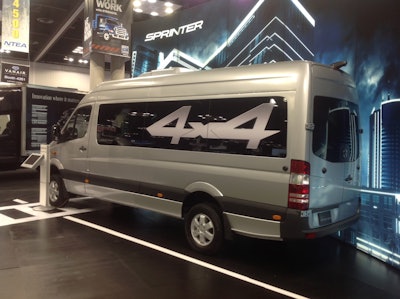 Posting deliveries of some 23,000 Mercedes-Benz Sprinter vans here last year, the U.S. has become the Sprinter's second-largest sales market after Germany. And, to improve global efficiency, the German auto and truck builder will be bringing production of the next generation of its large van to North America, the company reported Tuesday.
Because of high import tariffs, the Sprinters for the U.S. market have so far been produced at German plants, partly dismantled and reassembled at the plant in Charleston, S.C.
This time-consuming process results in a significant competitive disadvantage on the U.S. market for Mercedes-Benz, the company says, since it leads to long delivery times, makes the vehicle more expensive for U.S. customers and is therefore not economical in the long term.
"We can cover the growing demand for large vans in the North American market economically only if we produce the vehicles locally in the NAFTA region. That's why we have decided to produce the next generation of the Sprinter in North America as well," says Volker Mornhinweg, head of Mercedes-Benz Vans.
Mercedes-Benz Vans will decide on the exact location for the future production of the new Sprinter in the NAFTA region during the coming months with the usual plant selection process, according to the company.
Mercedes-Benz Vans also says it will invest $570 million in the modernization of the two German plants where the successor model Sprinter will be built. At the Dusseldorf plant, the leading facility for Sprinter production worldwide, the money will go specifically to modernize the body shop, the paint shop, and the assembly line.
(Editor's note: HWT will have a test drive from Sprinter next week.)