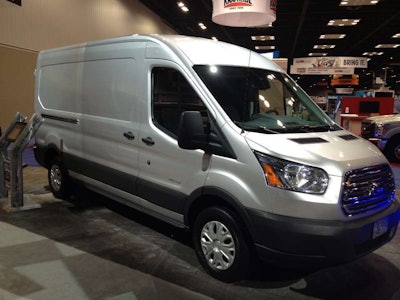 Ford Motor Co. has fulfilled its commitment to the UAW to create 12,000 U.S. hourly jobs by 2015, announcing 1,200 new jobs and a second shift at Kansas City Assembly Plant, where the all-new Ford Transit is built.
The 1,200 new jobs are in addition to the 2,800 jobs added at Kansas City Assembly Plant in 2012 and 2013 to support the 2015 Transit launch and increased production of Ford F-150, Ford reports.
Since the 2011 UAW-Ford contract negotiations, Ford has added jobs across its other U.S. manufacturing plants as well, for a total of 14,000 jobs.
"Adding a second shift to Kansas City Assembly Plant adds more jobs to this community, and it also helps deliver more Transit vehicles to more customers throughout North America," says Joe Hinrichs, Ford president, The Americas.
In addition to Transit, Kansas City Assembly Plant produces F-150 Regular Cab, SuperCab and SuperCrew pickups. The plant will employ more than 6,000 hourly workers by the end of 2014, on a two-shift pattern for Transit production and three-crew pattern for F-150, according to the company.
Ford invested $1.1 billion in 2011 to retool and expand the facility for Transit production and to support surging customer demand for F-150. Expansion projects include the addition of a 437,000-square-foot stamping facility and a 78,000-square-foot paint shop.
The investment also supports production of the all-new Ford F-150 in early 2015, after the truck launches at Dearborn Truck Plant later this year.
In the U.S., Transit replaces the Ford E-Series, first sold in 1961 as Ford Econoline. E-Series vans and wagons still will be sold side-by-side with Transit until late 2014, providing a seamless transition for Ford customers, Ford says.
E-Series cutaway and stripped chassis will continue to be built and sold through most of the rest of the decade.
[youtube m2XCKt7J6LM nolink]