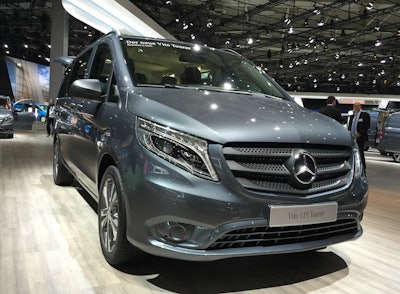 Year-to-date through August, Mercedes-Benz van sales in the United States are up 21 percent, from 13,200 units to 16,000 units compared to the first eight months of 2013. According to Volker Mornhinweg, head of Mercedes-Benz Vans, the overall large van market in the United States is up 16.8 percent from 170,400 units to 199,000 units.
Mercedes-Benz van sales have achieved double-digit growth in Western Europe (+16 percent) and China (+12 percent) in the same time period, but sales are declining in Latin America (-23 percent) and Eastern Europe (-3 percent) where local economies continue to struggle.
Sprinter gaining ground in North America
The Mercedes-Benz Sprinter has been available in North America under a number of badges since it was first introduced in 2001, and the Euro-style van has challenged the traditional domestic vans in the marketplace, said Bernhard Glaser, president and managing director of commercial vans for Mercedes-Benz USA.
"We have had four years of consecutive growth in the United States with Sprinter, and we are up 22 percent year-to-date," said Glaser. "The Sprinter is doing something right, and we have every intention to set yet another record in 2014."
Model-year 2015 Sprinters, which became available earlier this month, include a new Crosswind Assist feature that uses ESP sensors to brake the wheels and counter the wind forces on the van. Optional equipment include a 7-foot super high roof, super ultra-low emission vehicle (SULEV) diesel engine for four-cylinder models and two 4×4 packages that will be available in the United States early next year.
Mid-sized Mercedes-Benz van coming to U.S.
Currently, the Sprinter is the only van Mercedes-Benz offers in North America. That will change in the fall of 2015 as the company plans to introduce its new Vito (VS20) mid-sized van that recently launched in Europe, providing North American customers with a smaller option from Mercedes-Benz.
While it will likely come into the United States with a different name, the VS20 will be available in cargo and passenger versions with a long wheelbase, 3.5-liter V6 gasoline engine and rear-wheel drive (the European Vito has rear-, front- and all-wheel-drive options) beginning with the 2016 model year.
"We are convinced we can repeat the success story of the Sprinter with the mid-sized van," said Glaser.
Unlike the Sprinter, which is badged in North America as Mercedes-Benz or Freightliner, the VS20 will bear only a Mercedes-Benz logo. It will be assembled alongside the Sprinter at the company's assembly plant in Charleston, S.C.
More specifics on the VS20 launch and availability will be updated by Mercedes-Benz at a later date.