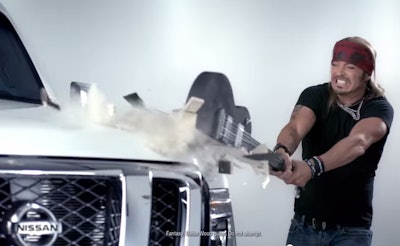 Nissan has launched a new marketing campaign, starring glam rocker Bret Michaels, for its line of commercial vans. Carrying the theme "The tougher we test them, the more you love them," the campaign is directed at small business owners looking for durable, efficient cargo and passenger vans.
Nissan commercial vehicles endure more than 6,600 tests during the development process, including being put through a 140-degree heat chamber, salt spray tunnel, frame twister, shaker machine, pothole-ridden roads and grueling brake tests, the company says.
The various testing procedures, which compress 13 years of real-world use into about three months, are shown in a series of individual product videos. (In addition to the main video below, other clips feature the heat chamber, the slat spray tunnel, the frame twister, the brake test, the pothole test, and the shaker machine.)
[youtube YXcrOjO8tn8 nolink]
"As one of the newest nameplates in the commercial vehicle segment, we want to bring attention to the operational efficiency of our innovative, durable Nissan NV Cargo, NV Passenger and NV200 Cargo vans – but do it in a way that gets business owners' attention," says Fred Diaz, senior vice president, Nissan Sales & Marketing and Operations, Nissan North America Inc. "Bret Michaels, with his reputation as an enduring icon of rock, was not only a perfect fit for the vehicles, he was also a valued collaborator in developing the Tough Love campaign. With his entrepreneurial spirit, he understands the needs of small business owners for trucks you can depend on."
The centerpiece full-length music video shows Michaels, front man for the '80s-era metal band Poison, serenading various Nissan vans as he joins Nissan technicians during vehicle durability testing at Nissan's Arizona Testing Center, a 3,050-acre facility in Stanfield, Ariz. Filmed on location in 110° weather, the video gives a tough new spin to the classic '80s power ballad "Endless Love" – complete with fire, smoke and an instrument panel-mounted Bret Michaels bobble head doll.
The product spots also are meant to underscore how Nissan stands behind its commercial vehicles. In June, Nissan increased basic limited warranty coverage from 3 years/36,000 miles to 5 years/100,000 miles, whichever comes first. The powertrain limited warranty has also been extended from 5 years/60,000 miles to 5 years/100,000 miles, whichever comes first. The specific models covered by this new bumper-to-bumper warranty include the 2014 NV Cargo Van, NV Passenger Van and the NV200 Compact Cargo.
"With this new campaign we really want to show buyers that Nissan builds a van that can keep up and never let the owners down, because when their vans are down, so are their businesses," adds Diaz.
Year-to-date, Nissan has sold more than 14,000 commercial vehicles in the U.S., more than double the same time period in 2013.