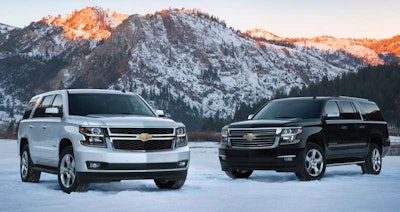 For the first time, retail registrations of sport utility vehicles and crossovers have surpassed sedans in the U.S., while pickups and vans have slipped, according to the recent analysis of new vehicle retail registrations by IHS Automotive.
For decades, the traditional four-door sedan has dominated U.S. highways, despite the availability of many vehicle body styles.
But IHS Automotive analysis of Polk retail new vehicle registration data suggests that the landscape is changing and the sedan no longer holds the dominant position it once did. Through the first five months of 2014, the most popular body style in the industry among individual consumers has been SUVs and crossovers.
"These vehicles offer the combination of appealing features associated with both cars and light trucks, including a higher seating position, higher ground clearance, softer ride, more interior space, optional four-wheel or all-wheel drive, and towing capacity, among others," says Tom Libby, manager, loyalty solutions and industry analysis at IHS Automotive. "Combined with the successful launches of all-new models and the introduction of redesigned existing products, these body styles offer a compelling option for the market."
2014 new retail registration data through May indicate that SUVs and CUVs now account for 36.5 percent of the new vehicle market (more than any other body style) versus 35.4 percent for sedans.
Five years ago, sedans held the number one spot with 36.3 percent, while SUV/CUVs accounted for 31.4 percent. Together, SUV/CUV market share has increased 2.6 percentage points in the past year, while sedan share has retreated more than one percentage point. A complete look at the segment shift in the past five years follows: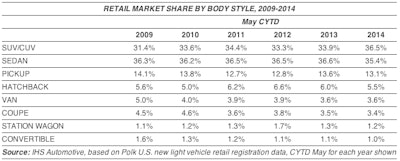 A key driver of the growth of the SUV/CUV category is the substantial product innovation and launch activity occurring in this segment, led by larger vehicles such as the Chevrolet Tahoe and the GMC Yukon and smaller vehicles such as the new Jeep Cherokee and Nissan Rogue. This growth in the SUV/CUV category has shifted consumer demand away from both large and small sedans, according to IHS Automotive.
The popularity of SUVs and crossovers has impacted additional body styles as well. Hatchbacks, pickups, coupes, passenger vans and convertibles all have lost share over the past five years.
In fact, hatchbacks and pickups have lost more share in the past year than any other category, declining one half a percentage point each in the past year based on new vehicle registrations.
"Between product introduction activity and expected decline in fuel prices, market conditions in the short-term forecast point to continued momentum within the SUV/CUV segments," said Chris Hopson, manager, North American light vehicle sales forecasting for IHS Automotive. "Longer term, concerns over fuel efficiency standards and rising oil prices are expected to pressure light truck sales."