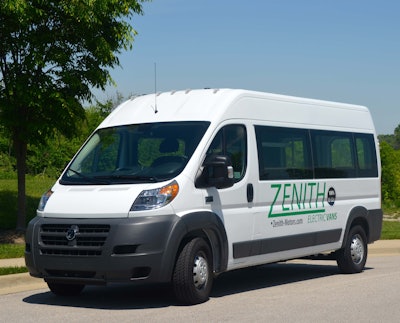 Electric shuttle and cargo van builder Zenith Motors reports that Zenith Electric Vans have become the first electric commercial van to receive a U.S. Environmental Protection Agency Certificate of Conformity.
Mandated by the Clean Air Act of 1990, the EPA Certificate of Conformity is a required certification for vehicles to operate on U.S. roads and highways and certifies that vehicles conform to all EPA regulations and emission standards.
"We are extremely pleased to be the first commercial electric van to have received EPA Certificate of Conformity. This certificate allows our customers to reduce their vehicle cost through federal tax credits," said William Yung, CEO of Zenith Motors LLC.
The Zenith Electric Shuttle and Cargo Vans are 100 percent electric. The vans can travel up to 60 miles per hour with a range from 90 to 120 miles per charge, depending on the battery options chosen.
The van can fully charge in 6.5 hours; an upgraded on board battery charger can reduce this time to 4 hours.
The shuttle van seats up to 11 passengers, while the cargo van sports a payload capacity of 3,000lbs.
Zenith Electric vans are saving fleet operators an estimated $100,000 over 300,000 miles, according to the company.