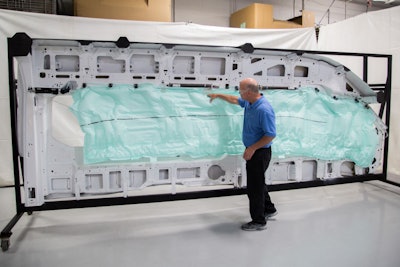 The all-new Ford Transit 15-passenger wagon will debut in the U.S. and Canada with the industry's only five-row side-curtain airbag.
Part of Ford Motor Company's Safety Canopy System, the jumbo airbag – which measures close to 15 feet long and 3 feet tall with a volume of 120 liters – is designed to help provide enhanced head and neck protection in rollover and side-impact crashes. By comparison, a side-curtain airbag for a sedan like Ford Fusion is approximately 6.8 feet long and 2 feet tall with a volume of 42 liters.
"The Transit wagon's five-row side-curtain airbag is a great technological innovation that allows us to provide a high level of protection to multiple passengers in one of Ford's largest vehicles," says Sean West, Ford restraints manager. "We are proud to build on our safety leadership."
In a crash situation, a series of sensors detects the impact and triggers two of the industry's largest inflators to fill the entire airbag with stored gas in a fraction of a second. The inflators fill the bag in a pattern engineered to manage the direction of bag deployment and control cushion thickness throughout the length of the bag. The airbag is made of a coated, polyester-based fabric that holds the gas, so the bag remains inflated for several seconds.
The single-bag design – in conjunction with tethering and the vehicle's B-, C- and D-pillars – helps keep the curtain supported when deployed.
Ford developed the five-row side-curtain airbag in cooperation with TRW Automotive, a global supplier of active and passive safety systems.
"This airbag technology is unique in its purpose, which is to help provide protection across five rows of passengers in a cabin that is more spacious than the more traditional light-duty vehicle," said Norbert Kagerer, vice president, Occupant Safety Systems Engineering for TRW Automotive. "The stringent customer and industry regulatory requirements for airbags called
for developing a system that provides appropriate occupant protection in a smart package."
Side-curtain airbags are standard on the Transit wagon, which is available in three roof heights, two wheelbases and three body lengths. The high-roof long-wheelbase wagon seats as many as 15 people and provides as much as 65.2 inches of headroom. The 15-passenger extended- length Transit wagon offers best-in-class cargo capacity – 100.5 cubic feet – behind the last row of seats.