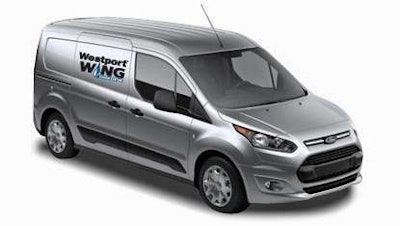 Westport is expanding its 2015 vehicle lineup with two natural gas fueling options for hard-working truck fleets who like the Ford Transit Connect.
As Ford's largest qualified vehicle modifier, Westport says it's is offering the 2015 Ford Transit Connect as a dedicated or bi-fuel compressed natural gas Westport WiNG Power System vehicle.
Dedicated and bi-fuel options will give fleets more fuel flexibility when choosing to fill up with CNG.
Westport's Transit Connect will be compliant with Clean Port Act emissions standards, ensuring that fleets and small businesses who service airports can take advantage of natural gas, according to the company.
Often used to transport passengers and cargo, the 2015 Ford Transit Connect model offers a 2.5L gaseous prep engine with improved fuel economy over gasoline.
Westport is accepting orders now through Ford dealerships.
Visit Westport's website for more information about bi-fuel and dedicated CNG Ford vehicles.