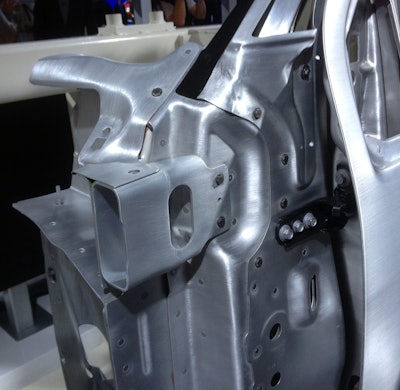 The move to aluminum in pickups offers benefits to the environment in addition to the lower fuel costs afforded truck buyers, a new report has determined.
Indeed, the use of aluminum in new vehicles to boost fuel economy also offers the smallest total carbon footprint among competing materials, according to a peer-reviewed Oak Ridge National Laboratory report.
The report was presented Wednesday at the 2014 Society of Automotive Engineers World Congress.
Researcher Sujit Das, an expert on product life cycle assessments for the U.S. Department of Energy, documented the study's findings.
"A proven way to reduce the carbon footprint of vehicles is to further increase the use of lightweight materials such as aluminum alloys in place of heavier, less efficient steels," says Das. "A full life cycle environmental analysis confirms that, when compared to both traditional and advanced steels in the areas of cumulative energy demand, potential ozone depletion and other likely factors in climate change, aluminum rises to the top as the best choice for the environment."
The ORNL Life Cycle Assessment examined a vehicle's entire environmental impact from each phase of its life – including upstream sourcing, design, manufacturing and post-consumer disposal – and found aluminum has the smallest total carbon footprint of all competing materials.
The conclusion of the study is consistent with an earlier draft of the report, as well as a 2010 comparative life cycle assessment that also concluded aluminum has the smallest carbon footprint of competing materials.
"When it comes to the most sustainable material option for a new generation of cleaner and greener cars and trucks, all roads lead to aluminum," says Tom Boney, chairman of the Aluminum Association's Transportation Group and vice president and general manager, North America Automotive, Novelis Inc. "This materials evolution under the paint cuts carbon emissions associated with all stages of automobile manufacturing, use and recycling. From saving money on gas, to reducing total carbon emissions, to improving performance and handling, the ongoing transition to aluminum use in autos is good for consumers and the planet."
Highlights from the ORNL study include:
An aluminum-intensive vehicle can achieve up to a 20 percent reduction in total life cycle energy consumption and up to a 17 percent reduction in CO2 emissions compared to a typical vehicle on the road today that uses any mix of traditional and high-strength steel in the body construction.
More than 90 percent of automobile energy consumption and carbon emissions occurs during the vehicle's use phase, with the mining, production and manufacturing phases accounting for just 10 percent or less.
While a steel vehicle has a lower production phase environmental impact, those initial gains are erased by higher energy use and carbon emissions during the steel vehicle's use phase.
After just 12,000 miles, an aluminum-intensive vehicle will have delivered enough energy savings to make up for the energy consumed during its production. Most automobiles on U.S. roads reach this breakeven point within their first year of operation.
The ORNL study modeled a typical 2012 crossover SUV reflective of the average on-the-road vehicle in the U.S. in terms of weight, performance, fuel economy and materials mix of steel, high-strength steel and aluminum.