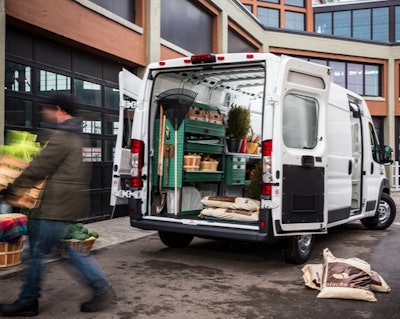 When the Ram Truck brand introduced the ProMaster van last fall, some basic, customer-critical specs were apparently lost in translation.
According to a report in Automotive News, the cargo volume for the ProMaster was recalculated after the trade magazine questioned the previous claim of 530 cubic feet – which would be "significantly" greater than the van's actual cargo dimensions.
The figure is expected to be adjusted to between 450 and 475 cubic feet, a spokesman told AN.
"The Ram ProMaster is based on the Fiat Ducato, available in Europe and the procedures used to measure capacities are precise to European (EMEA) standards," said a written statement from the brand. "We are currently reviewing and comparing our data to SAE measurements to align the Ram ProMaster with J1100."
The J1100 standard is used in the U.S., and the calculation includes only the space that actually can be used for cargo. The European standard measures the total volume of the interior space, including space above and between seats, for instance.