This Valentine's Day, some 200-300 million roses (or 'stems,' as they're called in the trade) will travel from fields in South America to sweethearts across the U.S. – making for a week or so of semi-controlled chaos for the floral industry, worth about a $2 billion bump.
The bulk of those roses will travel by jet to Miami, where the boxes head to temperature-controlled distribution centers to be picked up by carriers who specialize in hauling fresh-cut flowers.
Team drivers will then push their refrigerated rigs to wholesale destinations across the country. The wholesalers then redistribute the flowers to shops whose designers arrange the stems in the style of a customer's choosing – some simple, some elaborate.
But the roses really hit the road, as far as the consumer is concerned, when that arrangement makes the 'last mile' journey to the beloved's doorstep. And, for a florist handling three times the normal business, or 10 times, that's easier said than done.
The largest retail florist in Arkansas and among the top 25 in the nation, Tipton & Hurst has 17 vehicles in its hard working truck fleet, a mix of vans for customer deliveries, along with a couple of UD trucks with refrigerated boxes for larger events and to move stock between the company's own wholesale warehouse and four central Arkansas stores. The fleet handles about 100 deliveries in a typical day, explains company President and CEO Howard Hurst, whose family started the shop in 1886.
"We love the UDs, they're great to drive," he says, mentioning that he picked them up used when a grocery delivery service in Dallas went out of business. "They were totally outfitted with refrigeration, lift gate, side door steps."
Hurst also cites the performance of the half-dozen Toyota Sienna vans that he's recently added to the fleet. "They get good gas mileage and Toyotas are bullet-proof. For package delivery, they work really well."
But during the Valentine's Day rush at Tipton & Hurst, the number of deliveries climbs to near 2,000.
"You can imagine, if you've been doing 100 or 150 deliveries, to have to handle 20 times that many," he says. "It's a very difficult thing to do."
First, the orders have to be prepared. The company received about 40,000 roses ahead of Valentine's Day this year.
At the main store location in central Little Rock, it's all hands on deck.
The company vice-president's son, a med school grad and researcher, works one of the cash registers, waiting on customers three and four deep at the counter; the young man's mother fields phone calls.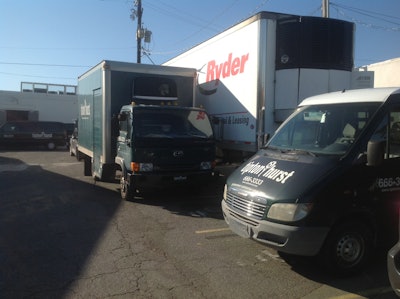 From their large workspace at the back of the building, designers shuttle fresh arrangements into the front display cases while drivers hustle orders to a line of vans waiting in the alley at the back of the store.
The boss handles a press interview because, basically, no one else can spare a few minutes to chat – and he's interrupted regularly with updates and urgent requests.
For the Valentine's push, the company rents six 53-foot refrigerated trailers and uses them to store flower arrangements awaiting delivery. The trailer's interior is lined with folding tables, double-stacked against each wall and with PVC leg extensions, a simple solution that allows enough clearance space for the upright long-stem rose arrangements. The trailers are organized by delivery area, simplifying order picking.
Once upon a time, Tipton & Hurst also rented vans to handle the Valentine delivery demand, but for the last 20 years or so the company has used contractors – often retirees or someone who's willing to take a day or two off from another job and make $5 to $10 per delivery. All must have the proper insurance coverage and agree to a standard contract.
"We turn away a lot of applicants," Hurst says, "but if they have a van and smart phone and they're prepared, we take them on. We have a lot who do it year after year, and they know what they're doing."
The florist has added 50 or so contractors for the rush, compared to 10 regular driver/employees.
"It's infinitely scalable. You don't have to hire people and go pick them up," Hurst says. "It's proven to be very successful for us. There's really no other way."
The automated delivery tracking system is a proprietary one and basic: Drivers simply call a dedicated line and enter the order number for a completed delivery. The delivery is then confirmed in the company's main order system, which sends a time-stamped email notification to the customer.
Prior to delivery, the system will group orders by geographic zones – but it's up to the experienced hands on the shipping dock to make sure orders are loaded appropriately for the most efficient routing schedule.
Otherwise, the company's drivers rely on free or inexpensive smart phone apps for directions, Hurst adds.
And while he's looked into modern fleet management software, the unusual nature of running a flower shop during a few, very busy holidays – of bringing on so many temporary drivers – makes such a package impractical for the few days when the store needs it the most, he explains.
"It might seem a little chaotic, but it's organized. Logistically, it's all perishable. We've got to get it here, and get it made – so delivery is the easy part. We've got that down," Hurst says. "We want to guarantee that the customer is completely satisfied."
That's been the company promise, since 1886.