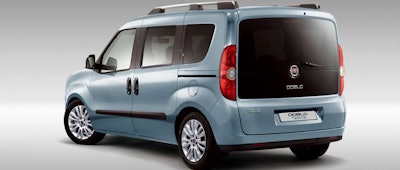 Reid Bigland, new president and CEO of Chrysler's Ram Truck Brand, isn't wasting anytime in making a splash, confirming Tuesday the company plans to roll out a second Fiat-based commercial van.
The yet-to-be-named van, which will be modeled after the Fiat Doblò and could be launched by mid-2015, is the slated replacement for the Ram Tradesman.
The smaller cargo van will be the little sister vehicle to the Fiat Ducato-based ProMaster, which was announced earlier this year and is set for production in the next few months.
Ram Media Relations manager Nick Cappa said the vehicle's launch would be in line with long-range expectations already set forth in the company's agreement with Fiat and that no specifics or vehicle specifications, including a name, had been set.
Ram says it plans to invest more than $355 million from 2013 to 2015 in the facelift and and adaptation of the van to the U.S. and Canadian markets.