Toyo Tire U.S.A. Corp. has launched a new variable-condition tire.
Toyo says Celsius provides better ice and snow traction than a typical all-season tire, yet offers the convenience of year-round use and a 60,000-mile treadwear warranty.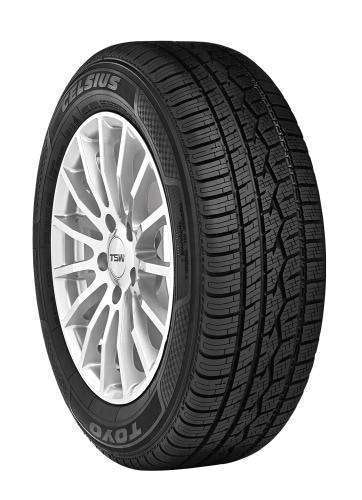 The new Celsius is for the many drivers, who for one reason or another, choose not to switch to winter tires when snow and ice hit the ground. It is ideal for people, the company says, who live in states where they may drive to work in dry conditions, only to have a fast-moving winter storm leave snow on the roads for the commute home.
"Toyo Celsius is an upgrade for anyone expecting, or not expecting, to drive in ice and snow this winter on all-season tires," says Roy Bromfield, COO, Toyo Tire U.S.A. Corp.  "The convenience and safety of Celsius is a tremendous benefit in today's busy world and answers the demand for hassle-free, one-stop solutions."
Independent third-party testing found Celsius stopped up to 31 feet shorter on snow and eight feet shorter on ice than a typical all-season tire.
Variable tread technology results in an asymmetric tire which has a visibly different tread from inside-to-outside.  Snow claws are located at the base of the outer circumferential grooves to help improve deep snow traction while providing block rigidity for better ice and wet traction.  Deep slush grooves help evacuate heavy slush and snow from the tire for increased traction.