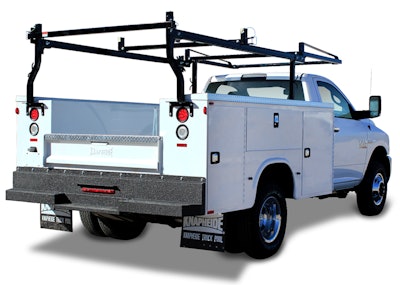 Utility racks are all pretty much the same when it comes to basic design and use. But there're always new models that seem to stand out for improvements that make them more durable and functional. Knapheide's Utility Rack is one of those.
The utility rack's construction features square and rectangular steel rube for enhanced strength and appearance. It's rated to carry 1,000 pounds.
The design accommodates forklift loading either side with raised cross sections, while the rear swing-away and center removable cross sections allow for the loading of taller items.
Wind noise is greatly reduced with the rack's round front bar  and integrated tie-down hooks in each vertical post a great for securing cargo.
Knapheide offers the new utility rack in a black or white powder coat finish. The Knapheide Utility Rack is compatible with a range of pickups and cab-chassis from 1/2-tons to Class 5, and 8', 9', and 11' Knapheide Service Bodies.
CONTACT: Knapheide; 217-222-7131