Kawasaki 2015 Mule PRO-FXT; workhorse side-by-side model takes comfort and performance to a higher level with more power and options to expand its work versatility
Git 'er done with a new breed of Mule.
Kawasaki's 2015 Mule PRO-FXT, with four-wheel IFS and the 812cc's class-leading torque, is the fastest, smoothest and most powerful Mule ever.
It also has the new configurable Trans Cab seating for three or six passengers and a standard Kawasaki three-year warranty, along with more comfort and convenience features than ever before.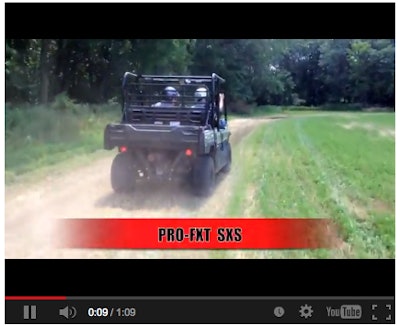 I watched new PRO-FXTs being assembled at the company's sprawling Lincoln, Nebraska, manufacturing complex, then drove the new models for a half-day at a ranch located just outside of town to see how they performed.
My conclusion: It's a practical, efficient side-by-side for anyone running a company that needs a small, versatile, utility-type ATV to move men and equipment in tight confines or over rugged terrain.
The Mule PRO-FXT is remarkably nimble when it comes to negotiating sharp turns and tight trails.
That's because it has a short overall length and wheelbase, along with the power steering system, makes it more maneuverable than others in this competitive market.
This new IFS chassis, with almost 10-inches of suspension travel, absorbs bumps and rough terrain quite well, too.
The CVT transmission is lacking in downhill engine braking, but the new Mule more than makes up for that with sports-car-like disc brakes on all four corners.
The new CVT is combined with an electrically selectable 2WD/4WD system that has a dual-mode rear differential. Convenient dash-mounted switches allow the driver to instantly engage the systems giving full control over the 4WD and the locking rear differential.
The engine pulls fairly strong for a six-passneger SxS (the rear seat can be flipped up and the bed slid forward to make it a three-passneger setup). I saw 45mph during one run across a long field.
As for work, the Mule PRO-FXT can haul 1,000-pounds in the bed and is rated to tow 2,000 pounds on the rear hitch.
The bed is a dump-model with optional hydraulic system to make it easy to dump and spread mulch, sand, gravel or other materials.
Kawasaki offers an enclosed cab, heater, dual batteries and LED lights, along with a WARN ProVantage Plow System. This combination should be of great interest to those landscapers who move dirt in the summer and ice in the winter.
MULE PRO-FXT SPECIAL FEATURES
Class-leading 48 ft-lb(2) of torque from new 812cc three-cylinder fuel injected engine
Independent front and rear suspension, disc brakes, CVT, Electric Power Steering
Short 92.3″ wheelbase and 133.3″ overall length
Haul up to 1,000 lb (where permitted by state law) in steel cargo bed
Tow up to 2,000 lb (where permitted by state law) with 2" receiver hitch (using optional draw bar)
Trans Cab allows one person to quickly convert from three- to six-seat capacity
Cockpit features tilt steering (except non-EPS model), bench seat, multi-function LCD display and multiple 12V outlets powered by high-output alternator
ROPS-certified Roll Over Protective Structure and full doors
Non-EPS, EPS, EPS LE and CAMO models available
A vast range of Kawasaki Genuine Accessories available from launch
Kawasaki STRONG Three-Year Warranty
ONE MULE, FOUR MODELS
The MULE PRO-FXT comes in four models, each one packed with a host of Kawasaki STRONG features.
The Non-EPS model comes standard with steel wheels and two DC outlets in the cab. It is available in the Super Black finish.
The second variation in the PRO-FXT lineup is the EPS model. This comes standard with the same amenities as the Non-EPS but with the addition of Electric Power Steering (EPS) and a tilt steering wheel.
This model is available in Timberline Green and Super Black with a contrasting graphic along the doors and cargo bed.
Next in the range is the desirable EPS LE. This variation comes standard with a host of additional upgrades over the EPS model, including LED headlights, aluminum wheels, a composite sun top and two additional DC outlets for rear-seat passengers.
Color options are Timberline Green and Dark Royal Red with a contrasting graphic along the doors and cargo bed.
Last, but certainly not least, the MULE PRO-FXT is available with Realtree Xtra Green Camo, which gives the avid hunter the ultimate color scheme for any adventure.
The Camo model includes EPS and tilt steering function. In addition, LED headlights and four DC outlets round out the Camo package.
Business owners should be able to spec out their own Mule PRO-FXT online and then print their custom build list and take it to their local Kawasaki dealer to purchase the exact vehicle specification they designed.
The new Mules should be arriving at dealers by the end of July.